500 Days Of Film Reviews April's Must-Watch Movies...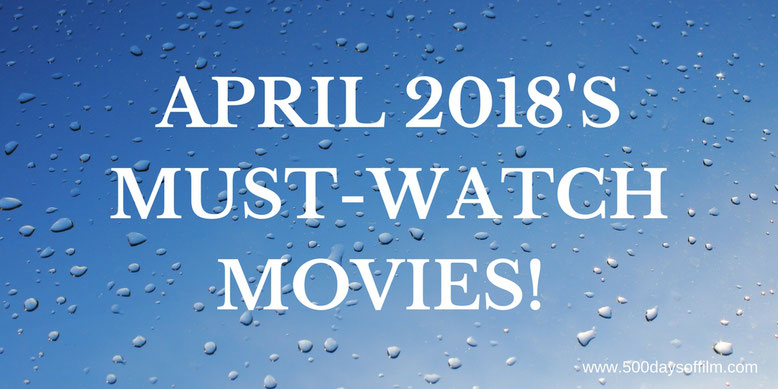 2018 has already given us a host of unmissable films - including The Shape Of Water, Lady Bird, You Were Never Really Here, I, Tonya, Black Panther, Phantom Thread, Coco, The Square, A Fantastic Woman and Annihilation. 
So, what can we now expect from April? Will this month's UK film releases feature any exciting, must-watch movies? Let's take a look...
April's Top Movie Releases
5th April
A Quiet Place
I love the premise of John Krasinski's film A Quiet Place (starring Krasinski himself, Emily Blunt, Noah Jupe and Wonderstruck's Millicent Simmonds). A family of four must navigate their lives in silence after mysterious creatures that hunt by sound threaten their survival. If they hear you, they hunt you. I cannot wait!
6th April
Thoroughbreds
The cast of Cory Finley's film intrigues me as much as its story about a complicated friendship. The trailer is pretty diverting too. Thoroughbreds is also noteworthy for being the last movie to feature the extremely talented Anton Yelchin who tragically died aged 27.
120 BPM
I am so looking forward to Robin Campillo's film about advocacy group Act Up Paris. In the early 1990s, the group demanded action by the French government and drug companies to combat the AIDs epidemic. 120 BPM has been wowing audiences and winning prizes since its premiere last year.  
Wonderstruck
I saw Todd Haynes's film at the BFI London Film Festival last year. This is a visually beautiful movie with a superb central performance from Millicent Simmonds and another stunning score from Carter Burwell.
Click here for my full review of Wonderstruck
Ghost Stories
While it didn't quite work for me, Ghost Stories does feature a brilliant cast (including Alex Lawther, Martin Freeman and Paul Whitehouse) and is an admirable return to a more old fashioned style of spooky storytelling.
Click here for my review of Ghost Stories
Love, Simon
I am really looking forward to Greg Berlanti's film starring Nick Robinson, Katherine Langford, Jennifer Garner and Josh Duhamel. It tells the story of seventeen-year old Simon Spier who has yet to tell his family or friends he's gay and doesn't actually know the identity of the anonymous classmate he's fallen for online. 
13th April
Rampage
Okay so, full disclosure, IMDB's description for Brad Peyton's film does not fill me with excitement: "Based on the classic 1980s video game featuring apes and monsters destroying cities". However, the film does star the ever watchable, always charismatic Dwayne Johnson and looks like bonkers entertaining fun - and we all need that from time to time don't we.
20th April
Wilding
In this fantasy horror from director Fritz Böhm, a teenager uncovers the dark secret behind her traumatic childhood. This intriguing film stars the always brilliant Bel Powley.
Let The Sunshine In
I love director Claire Denis and so am intrigued by her latest film starring Juliette Binoche. Isabelle - a Parisian artist and a divorced mother - is looking for true love.
The Guernsey Literary and Potato Peel Pie Society
I know very little about Mike Newell's film - apart from its rather unwheldy title and the fact that it stars Lily James and Matthew Goode. The movie follows a writer who forms an unexpected bond with the residents of Guernsey in the aftermath of World War II when she decides to write a book about their experiences during the war.
26th April
Avengers: Infinity War
No surprise to find Infinity War on this list. I cannot wait (really, really cannot wait) to watch the next instalment in the Avengers story... although I am rather anxious about which of our beloved superheroes might not make it past Thanos.
27th April
Beast
I'm looking forward to Michael Pearce's feature debut starring Jessie Buckley. I do love a good psychological drama.
What Are You Watching In April?
What films are you most looking forward to watching this April? Let me know in the comments section below or over on Facebook or Twitter (@500DaysOfFilm).