500 Days Of Film Reviews February's Must-Watch Movies...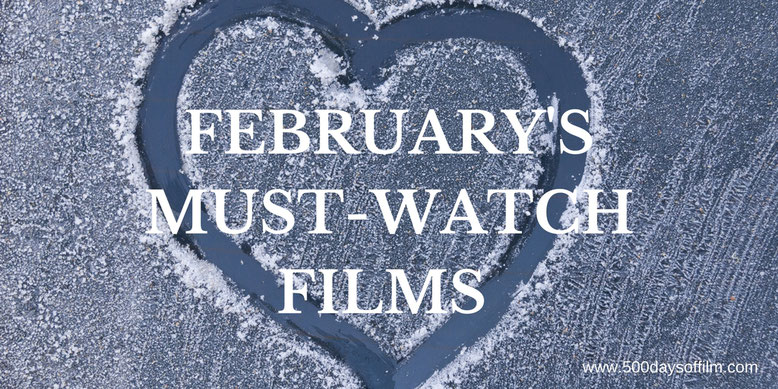 As we make our way into the second month of 2018, what films should we make a point of watching? Let's take a look at February's unmissable movies... (I'll be looking at UK film releases).
Films To Watch In February
2nd February
Journey's End
Saul Dibb's film tells the story of a group of British officers - led by a man who is experiencing a mental breakdown - who await their fate in a dugout in Aisne in 1918. Expect powerful performances from a brilliant cast including Toby Jones, Paul Bettany, Sam Claflin and Asa Butterfield.
Roman J. Israel Esq.
Dan Gilroy's film features yet another impressive (Oscar nominated) performance from Denzel Washington who stars as a driven, idealistic defense attorney whose life is upended when a turbulent series of events challenge the activism that has defined his career.
Winchester
Michael Spierig and Peter Spierig directs Helen Mirren, Sarah Snook and Jason Clarke in this
spooky bio pic about an eccentric firearm heiress who believes she is haunted by the souls of the people killed by the Winchester repeating rifle. 
Phantom Thread
Any film from Paul Thomas Anderson would likely make my list but the Phantom Thread also boasts the final (do we believe him?) acting performance from one Daniel Day Lewis. Early reviews were enough to make me very excited for this movie about a renowned 1950s London dressmaker whose life is disrupted by a young, strong-willed woman (played by Vicky Krieps).
9th February
Loveless
Andrey Zvyagintsev's film impressed audiences and critics alike on the festival circuit. I am looking forward to this drama about a divorcing couple who have to team up after their son goes missing.
The 15:17 To Paris
Based on the true story of what happened when three young Americans stopped a terrorist attack on a train bound for Paris, Clint Eastwood's film is also noteworthy because the three heroes play themselves.
The Mercy
We are still only in February and already 2018 seems full of real life stories. James Marsh's film (starring Colin Firth and Rachel Weisz) is another true tale - about yachtsman Donald Crowhurst's disastrous attempt to win the 1968 Golden Globe Race.
13th February
Black Panther
I watched Justice League at the cinema last year and the best part of that experience was the Black Panther trailer. I cannot wait for this next film in the Marvel Cinematic Universe - particularly as it is directed by Ryan "Fruitvale Station" Coogler.
14th February
The Shape Of Water
I was so fortunate to see The Shape Of Water at the BFI London Film Festival (followed by a fascinating talk by director Guillermo del Toro). It is absolutely wonderful. I love everything about this movie - it features superb performances (Sally Hawkins is incredible) from a powerful ensemble cast, a brilliant score and del Toro's trademark stunning visual style.
Click here to read my full review on The Shape Of Water.
You can also click here to read my profile of Guillermo del Toro. 
16th February
Journeyman
We've had to wait seven years, but February sees the release of Paddy Considine's second (after the heartbreaking Tyrannosaur) feature film. Journeyman tells the story of boxer, Matty Burton, who suffers a serious head injury during a fight. 
Lady Bird
Lady Bird is one of my most anticipated films of 2018 - I can't believe wait to see Greta Gerwig's film. Starring the always impressive Saoirse Ronan and featuring an awards-worthy performance from Laurie Metcalf, Lady Bird is a coming of age tale with heart and a whip smart script. 
23rd February
I, Tonya
Hot on the heels of Lady Bird comes another highly anticipated, long awaited release. Dark comedy, I, Tonya, stars Margot Robbie as controversial competitive ice skater, Tonya Harding. Watch out for a brilliant performance from Allison Janney.
Finding Your Feet
I'm looking forward to Richard Loncraine's film primarily because of its cast. The movie features performances from  Joanna Lumley, Celia Imrie, Timothy Spall and Imelda Staunton. 
Dark River
Clio Barnard is such a talented filmmaker that her name was all I needed to put Dark River on this list. Then I saw the trailer and well I'm in… I'm all in.
What Are You Looking Forward To Watching In February?
What films are you most looking forward to watching this month? Let me know in the comments section below or over on Facebook or Twitter (@500DaysOfFilm).