500 Days Of Film Reviews 2017's Best Cinematic Displays Of Bravery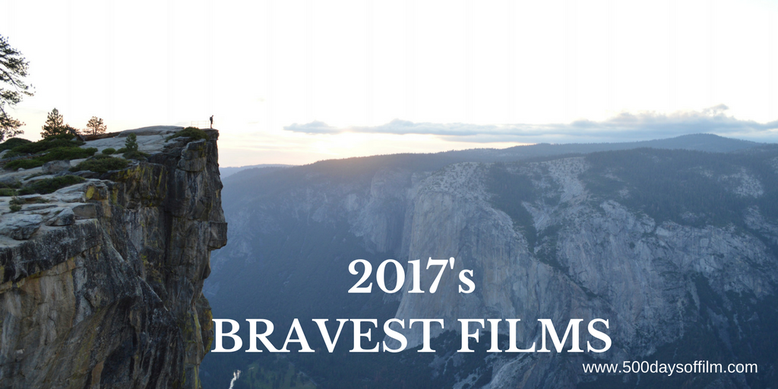 Cinema loves a tale of bravery. So much so that courage under fire is almost a genre in its own right. Bravery, of course, comes in all different shapes and sizes - from intimate stories of individual courage - such as found in Wonder, Gleason and Denial - to historic acts of heroism like those depicted in Dunkirk.
To honour these stories (whether they are true stories or inspired by real events), here are ten of 2017's bravest films.
Only The Brave
Based on Sean Flynn's fascinating GQ Article "No Exit", Only The Brave tells the true story of the Granite Mountain Hotshots - incredibly brave firefighters who run towards danger when most of us would run away. Joseph Kosinski's film (starring Josh Brolin, Miles Teller, Jeff Bridges and Jennifer Connelly) follows the hotshots as they face 2013's ferocious Yarnell Hill fire. 
First They Killed My Father
Angelina Jolie's film, First They Killed My Father, portrays the stunning bravery of Loung Ung who was just five years old when Khmer Rouge soldiers stormed into her native city of Phnom Penh, Cambodia. Four years later, an estimated 1.7 million Cambodians had died - about a quarter of the population. 
Forced to leave her home, Loung and her family suffered unimaginable hardship and heartbreaking tragedy. However, Loung's strength and indomitable spirit enabled her to carry on through the violence and devastating loss - determined to tell her story so that those dark days in Cambodia could never be forgotten.  
Dunkirk
During World War II, 400,000 brave Allied troops found themselves surrounded by the German army and trapped on the coast of Dunkirk. With their backs to the sea and the enemy closing in, the chances of survival were bleak.
However, just when all hope seemed lost, a courageous flotilla of small boats - manned by both the military and civilians - came to their rescue. Against all the odds, 338,226 soldiers were saved.
Wonder
R.J. Palacio's bestselling book was inspired by a real event in the author's life. One day, while out for ice cream with her children, Palacio saw a child with craniofacial difference. She started to imagine what life must be like for that child - and soon Wonder's Auggie Pullman was born.
Hacksaw Ridge
While reviews of Mel Gibson's film have been mixed, no one could question the bravery of Private Desmond Doss (played here by Andrew Garfield). In Okinawa, during one of the bloodiest battles of World War 2, Doss saved 75 men without firing or carrying a gun. 
The only American soldier in WW2 to fight on the front line without a weapon, Doss believed that while the war was justified, killing was wrong. As an army medic, Doss single-handedly evacuated the wounded from behind enemy lines and braved fire while treating soldiers. He was wounded by a grenade and hit by snipers.
Desmond Doss was the first conscientious objector (he preferred the term conscientious cooperator) to be awarded the Congressional Medal of Honor.
Denial
In 1996, American historian Deborah Lipstadt (Rachel Weisz) was accused of libel by David Irving (Timothy Spall) after she declared him to be a Holocaust denier in her book, Denying The Holocaust (published in 1993). 
In England, the burden of proof falls upon the defendant in cases of libel. As a result, it was up to the courage of Lipstadt and her legal team - led by solicitor Anthony Julius (Andrew Scott) and barrister Richard Rampton (Tom Wilkinson) - to prove and honour the truth of the Holocaust. 
Gleason
Weeks after being diagnosed with ALS, former New Orleans Saints star defensive back Steve Gleason learnt that his wife Michel was pregnant with their first child. Determined to live his remaining years to their fullest, Steve went on an expedition to Alaska, created a foundation to help other ALS patients and embraced new technologies to help compensate for his deteriorating physical abilities.
Steve records his thoughts about life, parenthood and his hopes for his child in a deeply moving video diary. This diary not only reveals his own bravery and also the strength and courage of Michel.
The White Helmets
Amid the daily devastation of airstrikes on civilian targets in Syria, a group of brave and resilient first responders (called The White Helmets) risk their lives to rescue victims from the rubble. Orlando von Einsidel's Oscar winning documentary short tells an inspirational human story about Syria's real life heroes who choose to save lives rather than take them. 
Tower
On 1st August 1966, a sniper opened fire from the top floor of the University of Texas Tower, holding the campus hostage for 96 minutes. When the gunshots finally ended, 16 people were dead and three dozen more were left wounded.
Keith Maitland's superb documentary, Tower, tells the untold stories of the witnesses, heroes and survivors of America's first mass school shooting.
Patriots Day
On 15 April 2013, two homemade bombs exploded near the finish line of the Boston Marathon. The blast killed three people and injured hundreds of others - many losing limbs. 
Recreating these tragic events, Patriots Day also depicts the FBI investigation and dramatic manhunt for the two brothers responsible for the attack - Dzhokhar Tsarnaev and Tamerlan Tsarnaev. 
Director Peter Berg shows how Boston responded to the attacks, revealing the city's inspirational bravery, solidarity and resilience. 
Over To You...
What are your favourite films about bravery? Let me know in the comments section below or let's chat over on Facebook or Twitter (@500DaysOfFilm).