500 Days Of Film Reviews Ten Great Movie Books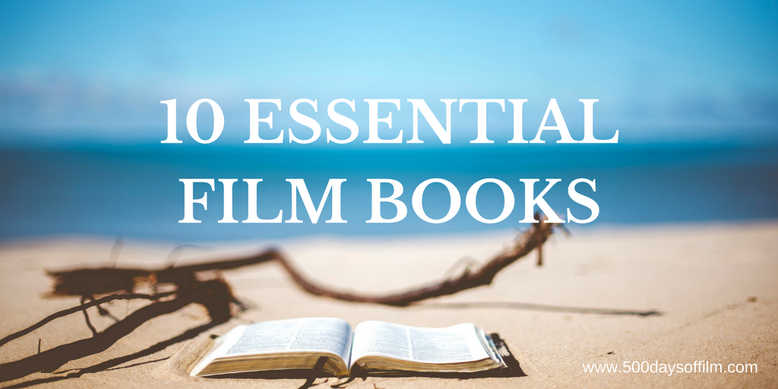 As much as I love watching films, I also enjoy reading… about films. Well, the more you know about the movie-making process and the evolution of cinema, the more you want to know. Am I right? 
Ah, I knew that you would agree with me.
As a result, in this article I will list ten of my favourite film books. This is (of course) far from an exhaustive list. In fact, it would be wonderful if you would share your favourites too (there's a comments section at the end or we could also continue this discussion over on Twitter or Facebook!).
10 Fabulous Film Reads
1. The Oxford Guide To Film Studies - Edited By John Hill and Pamela Church Gibson
Blurb: A host of international experts provide an overview of the main disciplinary approaches to film studies, an explanation of the main concepts and methods involved in film analysis, a survey of the main issues and debates in the study of film, and critical discussion of key areas.
Why I Like This Book: When I started to write about film, I decided to educate myself via The Oxford Guide To Film Studies (and other books). This book covers many film issues and developments - from classic film theory and semiotics to Hollywood and film industry. In addition, every chapter includes recommendations for further reading. I feel smarter just looking at this book!
2. Harry Potter: Film Wizardry -  Brian Sibley
Blurb: Harry Potter: Film Wizardry delivers an enchanting interactive experience, transporting readers to the wizarding world by sharing film-making secrets, unpublished photography and artwork and exclusive stories from the stars. Full of removable facsimile reproductions of props and paper ephemera from the movies, this collectible volume offers a privileged look at the Harry Potter films and the talented group of Muggles that has made true movie magic.
Why I Like This Book: Ephemera you say? Well sign me up! I love this book. I decided to buy it following a tour around Harry Potter Studios. I was just so impressed by the talent behind the scenes of these films and I wanted to find out more. It is full of fascinating facts and details - plus you get your own Marauder's Map!
3. When The Shooting Stops… The Cutting Begins.  A Film Editor's Story - Ralph Rosenblum and Robert Karen
Blurb: The story of one of the most important and least-understood jobs in movie-making - film editing - is here told by one of the wizards, Ralph Rosenblum, whose credentials include six Woody Allen films, as well as The Pawnbroker, The Producers and Goodbye, Columbus. Rosenblum and journalist Robert Karen have written both a history of the profession and a personal account, a highly entertaining, instructive, and revelatory book that will make any reader a more aware movie-viewer. 
Why I Like This Book: Having little idea about the craft of film editing, I came upon Ralph Rosenblum's incredibly insightful book. Rosenblum uses his own experiences and expertise to paint a fascinating picture of the life and role of a film editor. When The Shooting Stops is both entertaining and informative. 
4. The Story Of Film: An Odyssey - Mark  Cousins
Blurb: The most accessible and compelling history of cinema yet published… Mark Cousins shows how film-makers are influenced both by the historical events of their times, and by each other. He demonstrates, for example, how Douglas Sirk's Hollywood melodramas of the 1950s influenced Rainer Werner Fassbinder's despairing visions of 1970s Germany; and how George Lucas' Star Wars epics grew out of Akira Kurosawa's The Hidden Fortress. 
Why I Like This Book: The Story Of Film is a remarkably informative and meticulously researched book. The phenomenally knowledgeable Mark Cousins makes for a wonderful guide through the history of cinema. He has also made a fascinating 15 hour documentary based on this book.
5. The Good, The Bad and The Multiplex - Mark Kermode
Blurb: If blockbusters make money no matter how bad they are, then why not make a good one for a change? How can 3D be the future of cinema when it's been giving audiences headaches for over a hundred years? Why pay to watch films in cinemas that don't have a projectionist but do have a fast-food stand? And, in a world where Sex and the City 2 was a hit, what are film critics even for? 
Outspoken, opinionated and hilariously funny, The Good, The Bad and The Multiplex is a must for anyone who has ever sat in an undermanned, overpriced cinema and wondered: "How the hell did things get to be this terrible?"
Why I Like This Book: As much as I love listening to Mark Kermode on Kermode And Mayo's Film Review show/podcast, I also very much enjoy his writing. I became utterly hooked on The Good, The Bad and The Multiplex when, in the very first pages, Kermode examines the role of the cinema projectionist. It's fascinating stuff. 
Full of great movie information and funny anecdotes, the book goes on to explore the dubious quality of blockbusters, the decline of 3D and the end of celluloid.
6. Monsters In The Movies: 100 Years Of Cinematic Nightmares - John Landis
Blurb: Renowned filmmaker, John Landis, presents a personal celebration of the greatest monsters ever to rampage across the Silver Screen.
Why I Like This Book: I just love Monsters In The Movies. It is one of those books that you can, depending on your mood, flick through the pages and appreciate the wonderful images or read the brilliantly informative text. 
Monsters In The Movies also features fascinating interviews with horror masters such as John Carpenter, Sam Rami, Joe Dante, Ray Harryhausen, David Cronenberg and Guillermo Del Toro. It's a must for any horror fan. 
7. How To Read A Film: Movies Media And Beyond - James Monaco
Blurb: Monaco once again looks at film from many vantage points, as both art and craft, sensibility and science, tradition and technology. After examining film's close relation to other artistic media such as the novel, painting, photography, television and even music, the book discusses the elements necessary to understand how films convey meaning, and, more important, how we can best discern all that a film is attempting to communicate.
Why I Like This Book: Part film history, part film interpretation, James Monaco's comprehensive book looks at cinema's place in society, explores the technological developments in the movie industry and examines how a film conveys its message. It is a serious and thought-provoking read. 
8. Hitchcock/Truffaut - François Truffaut
Blurb: The definitive study of Alfred Hitchcock by François Truffaut
Why I Like This Book: I love this book… it feels like such a privilege to experience the discussions that took place between these two legendary film directors. Truffaut examines Hitchcock's career from his early childhood to his final film, 1976's Family Plot. It took four years to transcribe all of the interview recordings. Hitchcock/Truffaut is a wonderful, fascinating and insightful book - essential reading for anyone who loves film. 
9. 1001 Movies You Must See Before You Die - Edited by Steven Jay Schneider
Blurb: 1001 Movies You Must See Before You Die celebrates the great and groundbreaking, classic and cult, must-see movies of all time, offering a treasure trove of incisive, witty and revealing insights. Spanning more than a century of extraordinary cinema, this comprehensive volume brings together the most significant movies from every country and all genres, from action to Western, through animation, comedy, documentary, musical, thriller, noir, short, romance and sci-fi.
Why I Like This Book: I like this book for two reasons. One, because it is a comprehensive and informative guide through all the years of cinema, picking out all the must-see movies along the way. Two, because I just find it satisfying to tick off all the films that I have already seen. Hopefully there's time yet to watch them all!
10. Cocktails Of The Movies: An Illustrated Guide To Cinematic Mixology - Will Francis and Stacey Marsh
Blurb: Take a journey through Hollywood's lifelong love affair with cocktails, celebrating the greatest characters and their iconic drinks through original illustrations and easy-to-follow recipes.
Why I Like This Book: After all this reading, I think we deserve a drink. This gorgeously illustrated book selects cocktails from classic films and, after imparting some interesting background information, tells you how to make them. For example, you can make the flaming rum punch from It's A Wonderful Life or a midnight margarita from Practical Magic. This book gives you the perfect excuse to throw a film party!  
What Is Your Favourite Film Book?
I would love to know what movie books that you would recommend. Do feel free to leave your book suggestions in the comments section below!