500 Days Of Film Reviews Drama, Gifted, Starring Chris Evans and Mckenna Grace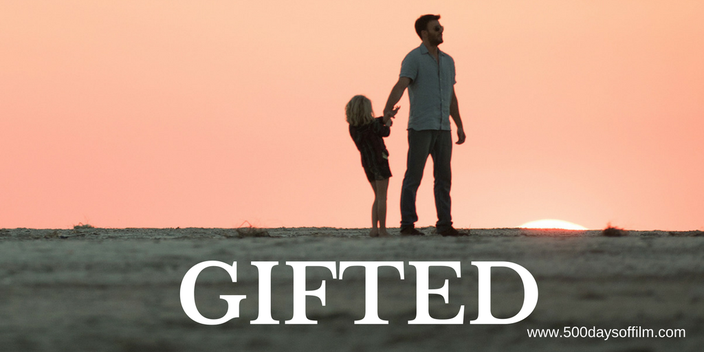 Frank Adler (Chris Evans) is a single man raising his spirited seven year old niece, Mary (Mckenna Grace), in a coastal town in Florida. More than anything, Frank wants a normal life for Mary. 
However, Frank's plans are foiled when Mary's stunning gift for maths comes to the attention of his formidable mother, Evelyn (Lindsay Duncan). She has plans for her granddaughter's future - plans that threaten to tear Frank and Mary apart. 
Is It Any Good?
I went to see Gifted with pretty low expectations. For one thing I had read a review describing Marc Webb's film as cheesy, schmaltzy fluff.  For another, I kept seeing it advertised on buses (not usually a good sign). 
However, I liked the look of the cast (particularly Chris Evans, Octavia Spencer and Lindsay Duncan) and felt in the right mood for something light and non-challenging*. 
The movie started and all my preconceptions melted away. It may not surprise you or break any new cinematic ground, but Gifted is a smart, funny and charming film with truly lovely performances.
Stealing the show is Mckenna Grace. Her portrayal of Mary is brilliant and she has wonderful on screen chemistry with Chris Evans. Tom Flynn's script allows Mary to be snarky and precocious and yet not at all irritating - no small feat.
In addition, the conflict between Frank and Evelyn is handled well. You sense the history between them and, while both have very different ideas about what is best for Mary, they never feel like human plot devices. 
Meanwhile, Gifted is boosted by the presence of Octavia Spencer (as Frank's friend and neighbour, Roberta). After all, no one does supportive disapproval like Octavia Spencer. Roberta and Mary's teacher, Bonnie (well played by Jenny Slate), add layers of warmth to this really lovely film.
However, Gifted is Frank and Mary's story (not forgetting, of course, a very important one-eyed cat). While their journey may be easy to predict, their relationship is the heart of this charming and heartwarming movie. 
Random Observations
*Full disclosure, I'd seen Oldboy the night before.
Gifted is one of those heartwarming movies that I could watch multiple times. 
Have you seen Gifted? 
If you have, what did you think of this movie? Let me know in the comments section below or let's talk over on Twitter or Facebook!