500 Days Of Film Reviews Action Movie, John Wick Chapter 2, Starring Keanu Reeves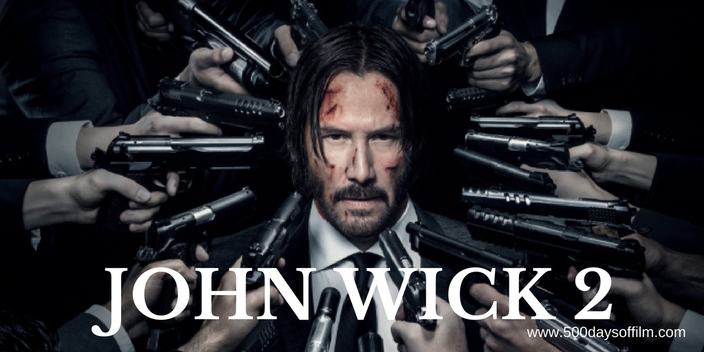 Legendary hitman, John Wick (Keanu Reeves), is forced back out of retirement by a former associate plotting to seize control of a shadowy international assassins' guild. Bound by a blood oath to help him, John travels to Rome where he squares off against some of the world's deadliest killers.
Is It Any Good?
I experienced an odd sense of deja vu before watching John Wick: Chapter 2. I was both excited and wary of this sequel to 2014's surprise action hit, John Wick. What films had inspired this feeling before? Ah, of course: The Raid and The Raid 2.
Like The Raid, John Wick took me by surprise. It was unexpectedly great - far, far more enjoyable and satisfying than I could ever have predicted. Again, like with Gareth Evans' movie, the announcement of a John Wick sequel filled me with eager anticipation and, well, dread. Could director Chad Stahelski capture lightning in a bottle for a second time? 
The answer is yes… and (a little bit) no. John Wick: Chapter 2 is a thrilling and consistently entertaining film full of exciting and beautifully shot (very shiny) action sequences. It is awesome to see Keanu Reeves back in this impressive and physically demanding role. He is a mesmerising mixture of James Bond (all sharp suits, gadgets and guns) and a Bond villain - everyone's favourite boogeyman. 
Unfortunately, as with The Raid 2, John Wick: Chapter 2 has lost the 'something' that made the original film so special. Actually, two things: simplicity and surprise. Of course, no one could replicate the surprise that was John Wick. However, by expanding the world of the international assassins' guild, John Wick 2 loses the purity and focus of the original film and, by extension, some of the joy.
Nevertheless, there is still much to recommend. John Wick 2 maintains a keen sense of the ridiculous (a scene involving some steps in Rome made me laugh out loud). Meanwhile, there are plenty of audience pleasing, (video game style) action set pieces. Someone had great fun with blood spatter is all I'm saying.
I had a great time with John Wick: Chapter 2. It may not be as good as the original but it was a thrilling and exciting ride - sign me up for Chapter 3!
Random Observations
Have you seen John Wick 2? 
If you have, what did you think of this movie? Let me know in the comments section below or pop on over for a chat via Twitter or Facebook!