500 Days Of Film Reviews The 2017 Cannes Film Festival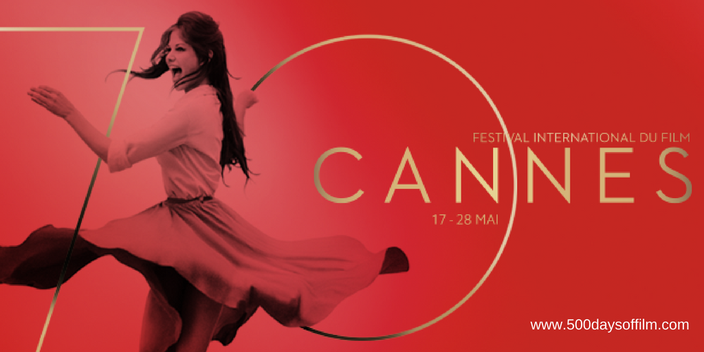 From Nicole Kidman to Netflix, the 70th Festival de Cannes was, by turns, a glamourous and controversial affair. Plus ça change, you may well heckle.
So, what really went down on the Crosiette? Let's take a look at the top ten cinematic takeaways from 12 days in the South of France.
Cannes 2017 Review
1. The Winners!
Caméra d'Or (Best First Feature)
Jeune Femme (Montparnasse-Bienvenüe) 
Director: Léonor Serraille)
Best Short Film
A Gentle Night 
Director: Qiu Yang
Best Screenplay
The Killing of a Sacred Deer 
Director: Yorgos Lanthimos
And
You Were Never Really Here 
Director: Lynne Ramsay
Jury Prize
Loveless 
Director: Andrei Zvyagintsev
Best Director
Sofia Coppola, The Beguiled
Best Actress
Diane Kruger, In the Fade
Best Actor
Joaquin Phoenix, You Were Never Really Here
Grand Prix
120 Beats per Minute 
Director: Robin Campillo
70th Anniversary Prize
Nicole Kidman
Palme d'Or
The Square 
Director: Ruben Östlund
2. The Best Films At Cannes
Apart from who won what, the big question is... what movies do we need to watch when they appear at our local cinemas?
I can't wait to watch Lynne Ramsay's new film, You Were Never Really Here. In addition, having loved The Lobster, I am looking forward to Yorgos Lanthimos's revenge horror, The Killing Of A Sacred Deer, starring Colin Farrell and Nicole Kidman. 
I am also excited to watch another Kidman/Farrell combo: Sofia Coppola's The Beguiled. Set during the Civil War, The Beguiled sees the women at a Southern girls' boarding school take in an injured enemy soldier. As they provide refuge and tend to his wounds, the house is taken over with sexual tension and dangerous rivalries.
Meanwhile, I am looking forward to Swedish comedy, The Square, French aids activist drama, 120 Beats Per Minute, Russian drama, Loveless, Noah Baumbach's comedy, The Meyerowitz Stories, American crime drama, Good Time and director Sean Baker's film, The Florida Project.
I am also excited about Korean director Bong Joon-ho's Okja (coming soon to a Netflix near you!). Finally, while critics were not as impressed by Todd Haynes' adaptation of Wonderstruck as they were by his 2015 film, Carol, I will nonetheless seek this movie out when it is released.
3. Netflix Drama
One of the most compelling dramas at Cannes 2017 was not, in fact, a film but a certain video on demand streaming service. The festival struggled this year to cope with Netflix and what it means for cinema.
On the one hand, two Netflix films (Okja and The Meyerowitz Stories) were in the running for the coveted Palme d'Or prize. This was welcomed by many as a sign of impressive forward thinking by the festival.
However, on the other hand, organisations such as the French Theatrical Exhibitors Guild (FNCF) criticized the inclusion of Netflix movies. Opponents argued that Netflix is at odds with the festival's ethos of supporting cinema.
The controversy led to much debate and (ridiculous) booing at the sight of the Netflix logo. The festival reacted by changing its rules for next year - it will ban films that are not released on the big screen from competing for the Palme d'Or.
This could prove challenging for Netflix (et al) as, in France, VOD services have to wait three years after a film's theatrical release before they are able to buy its rights.
Cannes 2017 may well have finished, but the Netflix/VOD debate continues... 
4. Nicole 'Come-Back' Kidman
Cannes 2017 was owned by one woman - Nicole Kidman. The actor came to the Croisette ready to promote three films - The Beguiled, The Killing Of A Sacred Deer and How To Talk To Girls At Parties - as well as her performance in season two of acclaimed series, Top Of The Lake. 
Kidman's career resurgence is wonderful to see. Her potential has always been clear and she was duly rewarded at Cannes with the Festival's 70th Anniversary Prize.
5. Sofia Coppola / Diversity #1
Can you believe that, before the winners of Cannes 2017 were announced, the festival had only awarded the prize for Best Director to one female filmmaker? Soviet director, Yuliya Solntseva, won back in 1961 for The Chronicle of Flaming Years.
It was, therefore, a historically significant win for Sofia Coppola (for The Beguiled). In a pre-written speech (read by jury member and director Maren Ade), Coppola thanked Jane Campion for being an inspiration and role model - and for being the only female film director to have won the Palme d'Or. 
Coppola's award is undoubtedly an important step forward for diversity… however, there, of course, remains a long way to go.   
6. Jessica Chastain / Diversity #2
Jessica Chastain has long been a champion for women in film. The actor and jury member used the festival's closing press conference to address the lack of female voices at Cannes 2017:
"The one thing that I took away from this [Cannes] experience is how the world views women from the female characters that I saw represented. And it was quite disturbing to me to be honest," the actor said. 
"There are some exceptions I will say but, for the most part, I was surprised with the representation of female characters on screen in these films and I do hope that when we include more female storytellers we will have more of the women that I recognise in my day to day life. Ones that are proactive, have their own agency, don't just react to the men around them - they have their own point of view."   
7. Ramsay Returns
One of the films that I am most looking forward to watching this year is director Lynne Ramsay's new movie, You Were Never Really Here. The film premiered at Cannes and received rave reviews. Guardian film critic, Peter Bradshaw, called the movie a "nightmarish and humidly absorbing psychological drama" that "leaves a shudder of disquiet behind it". 
Giving the film five stars, Telegraph critic, Tim Robey, reported that the film "drop-kicks you into a cosmos of pain, depravity and blunt-force trauma with only the faintest flickers of light at the end of the tunnel. It's not an experience to relish, exactly, but it's still one that's fully capable of blowing you away".
Meanwhile, Variety film writer, Guy Lodge, called Ramsay's movie "a stark, sinewy, slashed-to-the-bone hitman thriller far more concerned with the man than the hit."
Bring it on… I just cannot wait to watch You Were Never Really Here. 
8. Pattinson Buzz
While he lost out to Joaquin Phoenix in the festival's Best Actor category, Cannes was positively buzzing about Robert Pattinson's performance in the Safdie brothers new movie, Good Times. The actor, who reportedly received a six minute standing ovation, is now (inevitably) tipped for Oscar success.
9. Virtual Reality And The End Of Cinema?
What constitutes cinema? Where are its limits? These thorny issues plagued Cannes 2017 (see also the Netflix debate above). Should the festival remain true to traditional big screen releases or embrace the future of film?
The jury is out but one thing is clear, Virtual Reality made an big impression in Cannes.
The festival officially selected Alejandro González Iñárritu's seven minute short VR film, Carne y Arena. Shot by the director's long-time cinematographer, Emmanuel Lubezki, it is the first VR movie to have premiered at the festival. 
Following its screening, Carne y Arena (which explores the experiences of migrants moving from Mexico to the US) received much critical acclaim. So, is this the moment when VR starts to supercede cinema? 
Well, no. Iñárritu himself has stated that his impressive project is not cinema and film writers have described Caren y Arena as more of an art installation than a film. It has to be seen in a specially adapted space and can only admit a limited audience per day.
So VR is no threat to cinema. Perhaps, as Iñárritu has suggested, this is a new medium entirely. 
10. The Palm Dog Awards
And finally, the prestigious Palm Dog awards also took place in Cannes this year. These awards celebrate dogs in film and, this year, also recognise those canines around the world who are involved in the fight against terrorism. Three security dogs - two-year-old Lilou, four-year old Glock and seven-year old Even - were given a Special Jury prize.  
The coveted Palm Dog Collar was awarded to Bruno, a standard white poodle, who features in Noah Baumbach's The Meyerowitz Stories. Meanwhile, The Grand Jury Prize went to Lupo - a black German Shepherd who stars in Lea Mysius film Ava.
Over To You...
What did you think about the Cannes Film Festival this year?
Let me know by leaving me a comment in the box below. Alternatively, come find me on Twitter or via Facebook!