500 Days Of Film Reviews 10 Stunning Animated Films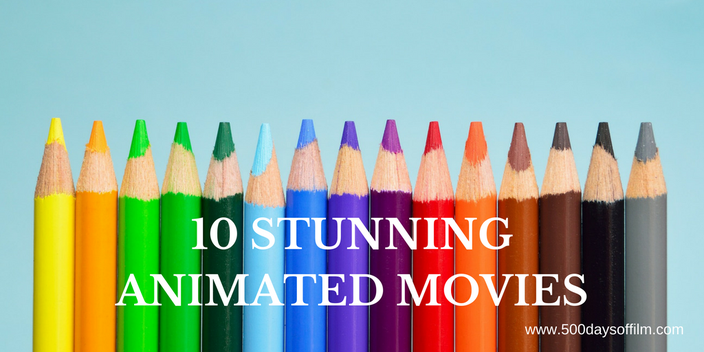 The world of animation is endlessly impressive - both because these films are visually stunning and also because of the years of painstaking work that has gone on behind the scenes.
It is incredible to consider how everything in each and every frame of these wonderful movies has been created by a team of artists. The level of creative detail just blows my mind. 
Below is a list of ten beautifully animated films. It has, of course, been unbelievably hard to choose just ten movies and I know that I have some classics still to watch. If you have any animated movie recommendations, please do let me know in the comments section at the end of this article.
10 Gorgeous Animations
10. The Lego Movie
The frenetic pace and fun of 2014's The Lego Movie make it somewhat difficult to appreciate this film's impressive visuals. However, on subsequent re-watches, the creativity on display (down to the most intricate of details) is nothing short of magnificent. 
According to Warner Bros, there are 3,863,484 unique Lego bricks seen in the movie. Add the CGI Lego and you would need 15,080,330 bricks and over 200 mini figures if you wanted to recreate the entire film only using Lego pieces.
To make The Lego Movie feel even more authentic, the filmmakers (led by directors Phil Lord and Christopher Miller) added scratches, fingerprints and even dandruff!
9. The Little Prince
Netflix Original animation, The Little Prince, is based on the classic book (of the same name) by French writer, Antoine De Saint-Exupery. Director, Mark Osborne, used three forms of animation in order to tell his story
The scenes in the movie with the little girl are computer generated. However, when she starts to read the story, Osborne uses paper cutout animation. "I wanted to feel like the Little Girl was just learning to use her imagination, starting from a piece of paper," Osborne recalls in a fascinating interview with the New York Times.
The film then transitions slowly, becoming more dimensional. "Sand dunes and other set pieces are all depicted with flat paper until the moment the Little Prince comes onscreen. The story then moves to full dimensional puppet stop-motion," Osbourne explains.
The use of these three types of animation certainly make for a truly stunning visual experience.
8. Zootropolis
Disney's Oscar winning animation, Zootropolis, is an endearing, entertaining and thematically satisfying film. However, the movie is also an animation showcase. Just look at that fantastically realistic fur. The level of research that went into creating all of the fur strands for all of the different beasts is utterly incredible. Meanwhile, the different animal worlds are spectacular. 
Many of the animation developments that were made thanks to Zootropolis were also utilized (and further developed) in Disney's gorgeous Moana, which more than deserves a special mention on this list.
7. Big Hero 6
Another Disney Oscar winner, Big Hero 6 is a stunning and gorgeous animation. The film was the first to use Disney's light-rendering software, Hyperion. This new technology allowed the animators to create the illusion of light bouncing around the screen. It also enabled them to add realistic shadow effects and give Baymax that wonderful glow.
Hyperion gives Big Hero 6 wonderful cinematic imagery (particularly in the creation of the landscapes) and depth - making this both a gorgeous film for the eyes and for the heart. 
The Lion King
No list about stunning animated movies would be complete without The Lion King. Animators watched hundreds of hours of lion live action footage before they started to create Simba's story.
A lion was then brought into the studio, allowing the artists to get up close and personal with their subject. The animation team also looked at footage and stills of the film's voice cast to add character to their drawings.
Meanwhile, a vast amount of research was undertaken in order to create the gorgeous landscapes of The Lion King. The film is pure animation perfection.    
Wall.e
When director Andrew Stanton set out to make Pixar's Wall.e, he knew that he wanted his animation to have the look and feel of a live action film. In order to achieve this aim, Stanton asked legendary cinematographer, Roger Deakins, for help.
Although Deakins has since downplayed his part, the role he played in creating the 'natural' light and shadow in this stunning film is clear for all to see. Whether on Earth or in Space, Wall.e is a beautifully animated film.  
4. The Tale Of The Princess Kaguya
Studio Ghibli's The Tale Of The Princess Kaguya is a truly exquisitefilm. It features gorgeous hand drawn watercolour animation and free flowing, charcoal sketched characters.
This painterly film is also a timely reminder of the human craft inherent in animation and reminds us all that CGI has its limits. 
3. The Book Of Life
Steeped in Mexican culture, Jorge Gutierrez's underappreciated film, The Book Of Life, is a stunning feast for the eyes. The movie was inspired by the director's short film, Carmelo, which featured the wooden dolls of Mexican folk art. 
We have director Guilermo del Toro to thank for the preservation of Gutierrez's imaginative and vibrant vision for The Book Of Life. Without the del Toro's industry clout, the film may have become more mainstream. That would have been a travesty. 
2. Song Of The Sea
Every scene in Tomm Moore's Song Of The Sea is breathtaking. I often pause this gorgeous film just to appreciate the beauty of the animation on screen. 
The animation seems simple (as befits the film's child-like perspective). However, of course, the reality was anything but. Moore took a group of artists on an intense research expedition around key locations in Ireland, used studios in five different countries and combined hand drawn animation with CGI.
His efforts were more than rewarded. Each and every frame of Song Of The Sea is a work of art. 
1. Kubo And The Two Strings
Set in a fantastical Japan from acclaimed animation house Laika Studios (Coraline, The Box Trolls), Kubo And The Two Strings is a stunning stop motion film that takes us on a wonderful, mythical adventure.
Kubo And The Two Strings is a gorgeous example of the power of stop motion animation. This is Laika Studio's preferred method of filmmaking and, because the process of moving puppets frame by frame is so unbelievably painstaking, is something of a cinematic rarity. (The studio would often only create five seconds of screen time per week and Kubo And The Two Strings took five years to complete.)
In an interview with BBC Radio 4's The Film Programme, director Travis Knight talks about how we warm to stop motion because, as it has been created by a human artist's hand, it is imperfect.
"As much as we try to make these things as completely perfect as they can be, you are never going to get there because we are human," Knights explains. "In every frame of this movie there are problems, there are things that didn't quite work the way we wanted them to and I think that's something that makes it very beautiful.
"In this modern age that we live in where everything is done by machines, to see something that is brought to life by hand is a beautiful thing."
Over to you...
What do you think of this list of beautiful animated films?
What movies would you add? Let me know by leaving me a comment in the section below or do get in touch via Twitter or  Facebook!