500 Days Of Film Reviews Political Thriller, Miss Sloane, Starring Jessica Chastain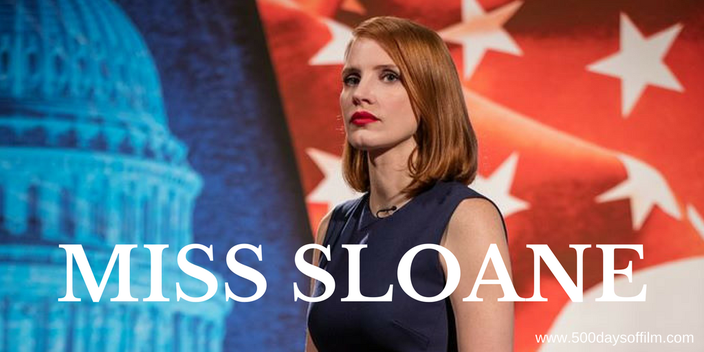 In Washington D.C.'s high stakes world of political power-brokers, Elizabeth Sloane (Jessica Chastain) is the most sought after and formidable lobbyist. She deserves her reputation - doing whatever is necessary to win.
However, when Elizabeth takes on the most powerful opponent of her career, she begins to wonder if, this time, winning may come at too high a price.
Is It Any Good?
Jessica Chastain's outstanding portrayal of Elizabeth Sloane is a powerful tour de force. Strong and vulnerable, hero and villain, she owns every scene of John Madden's film.
Chastain is joined by an impressive supporting cast including the always wonderful Mark Strong, Michael Stuhlbarg, Gugu Mbatha-Raw, Alison Pill and Sam Waterston. Each actor is given just enough room to shine before they step aside to let Chastain do her glorious thing. This is her film.
The cast of Miss Sloane revel in the pace of Jonathan Perera whip-smart and wordy script. As words are fired off at maximum velocity, it is impossible not to call Aaron Sorkin's The West Wing and Newsroom (the latter particularly so with the inclusion of Pill and Waterston) to mind. The film is exhausting and exhilarating by turns.
Indeed, Miss Sloane's dialogue is so dense and delivered at such head-spinning pace that it is a challenge to work out if the story, with all of its dramatic twists and turns, actually made any sense. 
However, plot contrivances aside, Miss Sloane is a thrilling ride - a film that wants to entertain, reward and satisfy its audience. For me, the movie succeeded in its aim. I may not remember the minutiae of the story, but I will certainly remember Jessica Chastain's powerful performance.  
Random Observations
Good to see Jake Lacy again. In Miss Sloane, like in Their Finest, he impresses in a small but crucial role.
Have you seen Miss Sloane? 
If you have, what did you think of this political thriller. Is it more than the sum of Jessica Chastain's superb performance? Let me know by leaving me a comment in the box below or by getting in touch via Twitter or Facebook.