500 Days Of Film Reviews Drama, Catfight, Starring Sandra Oh And Anne Heche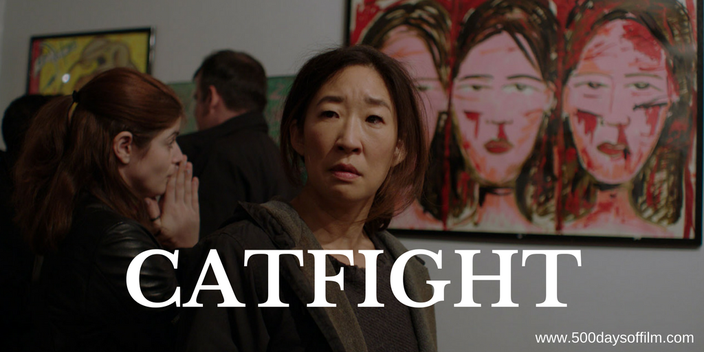 When two former college friends meet up at a fancy cocktail party, they discover
that their lives are in two very different places. Veronica (Sandra Oh) has become the entitled, wine-loving wife of a rich businessman. Ashley (Anne Heche) is struggling to make ends meet as an artist. 
As the two women reconnect, long-buried hostilities, jealousy and anger resurface, exploding into a vicious, bloody fight that leaves both women irreparably damaged – and ready for revenge.
Is It Any Good?
Catfight caused a stir on its release - a result of the fight scenes that punctuate the film's three acts. Critics and audiences alike were startled by the bloody crunchiness of the violence between the movie's two female leads. 
The visceral, cartoon violence displayed in each gnarly fight sequence befits writer/director Onul Turkel's dark and unsettling satire about consumerism and politics. However, the fights themselves (while spectacular) are far from the most interesting aspects of this movie.  
More compelling are Catfight's key performances - Sandra Oh and Anne Heche are superb. Recognising their on screen power, Turkel gives both actors room to showcase their remarkable talent and they are a joy to watch. 
Meanwhile, the movie also features a truly impressive supporting cast - including Amy Hill,  Alicia Silverstone, Ariel Kavoussi, Dylan Baker and Myra Lucretia Taylor.
Catfight's interesting (and eccentric) three act structure explores Ashley and Veronica's changing fortunes in light of the increasingly disturbing political situation in the film's near future America.
The satire is both funny and unsettling, feeling a little too close for comfort at times (when Veronica's aunt starts to name her trees, the movie nails its political colours to the mast in no uncertain terms).   
While it runs out of steam towards the end, Catfight is a darkly funny and entertaining film that leaves its audience with plenty to ponder - not least why we don't see much more of Oh and Heche on our cinema screens. 
Random Observations
Onul Turkel shot Catfight in just 16 days. Each fight sequence was shot in one day.
The story of Catfight started out as a fight between two young girls over a boy. However, Turkel grew to dislike this concept and so he decided to rewrite the script and, instead, focus on two more experienced women fighting over something more culturally relevant.
Have you seen Catfight? 
If you have, what did you think about this movie? Let me know your thoughts in the comments section below.