500 Days Of Film Reviews Fast & Furious 8, Starring Dwayne Johnson, Vin Diesel, Jason Statham and Charlize Theron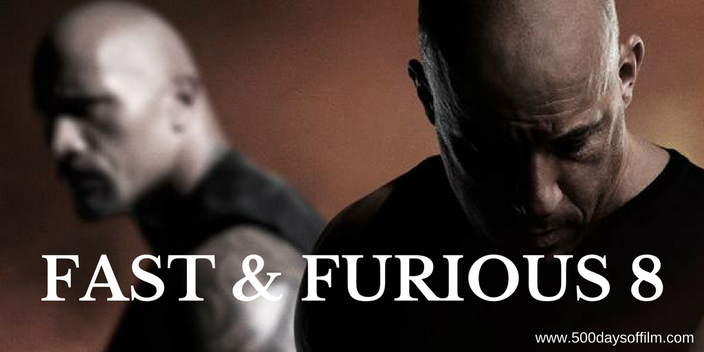 While on honeymoon, Dom (Vin Diesel) is persuaded by a mysterious woman (Charlize Theron) to betray his family and join a group of terrorists intent on unleashing chaos on the world.
From the shores of Cuba, to the icy plains off the arctic Barents Sea, via the streets of New York, Luke (Dwayne Johnson) and the rest of the gang have a choice - either bring Dom home or take him down.
Is It Any Good?
In 2015, Fast & Furious 7 became one of the fastest movies to reach $1 billion worldwide and the sixth-biggest global title of all time. No surprise, therefore, that we now have another installment in this phenomenally successful franchise.
Commercially at least, all looks good for Fast & Furious 8. The film, directed by Straight Outta Compton's F. Gary Gray, took an estimated $532.5m worldwide in its opening weekend - another box office record, beating the likes of Star Wars: The Force Awakens ($529m). 
The secret of Fast & Furious' success? Keep to a tried and tested format. Mix a charismatic cast with some spectacular cars, throw in some high stakes, high octane action and simmer, adding splashes of knowing humour. 
With these ingredients, what could go wrong?
Sadly with this eighth installment, the Fast & Furious saga feels like it has run its course. There is nothing new here and, most damaging of all, no sense of threat or danger. Meanwhile, the car chases, while often inventive, lack a sense of physical power that, post Mad Max: Fury Road, we have come to demand.   
Fast & Furious 8 does have its moments of enjoyable, crazy fun. Jason Statham's Deckard steals the show, Vin Diesel is coolly ridiculous and Dwayne Johnson is, of course, always good value. 
With box office figures breaking records, we can surely expect a Fast & Furious 9. However, unless the series can break the mould and inject some much needed danger and excitement, it may be time to bow out gracefully. 
Random Observations
Have you seen Fast & Furious 8?
If you have, what did you think of the latest installment in this franchise? Whatever your thoughts, let me know by leaving me a comment in the section below.