500 Days Of Film Reviews Thriller, The Ones Below, Starring Clémence Poésy, Stephen Campbell Moore, Laura Birn and David Morrissey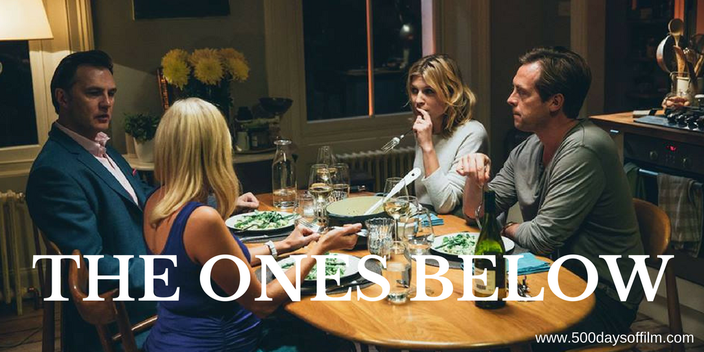 Thirty-something, affluent couple Kate (Clémence Poésy) and Justin (Stephen Campbell Moore) are expecting their first baby. On the surface, all appears well. However, the pair become unsettled by the arrival of mysterious new neighbours, Jon (David Morrissey) and Teresa (Laura Birn), into the apartment below.
Teresa is also pregnant and her joy at the prospect of motherhood forces Kate to address her own fears about becoming a mother. Meanwhile, Jon is a humourless, potentially malevolent character. 
Then, one night, a tragic accident throws both couples into a nightmare full of guilt, suspicion and psychological terror.
Is It Any Good?
If you think the title of The Ones Below sounds like a horror film, well you would be right. However, instead of jump scares, writer/director David Farr builds an unrelenting atmosphere of anxiety and dread, preying on a time of intense vulnerability: pregnancy and early parenthood. 
Like in Jennifer Kent's The Babadook, Kate (a powerful performance from Clémence Poésy) and Justin's lack of sleep is palpable. At times, we wonder if Kate's suspicions about her neighbours are the result of exhaustion. However, Jon (a deeply 
unsettling portrayal from David Morrissey) and Teresa are so chilling that we never quite believe Kate is succumbing to the mental illness that has afflicted her family. 
The tension inherent in Farr's film never lets up as The Ones Below moves towards its final act. While a basic knowledge of past psychological thrillers enables us to guess the twists and turns before they happen, we are, nonetheless, never quite sure how dark and twisty the story will become.
Turns out, The Ones Below is unafraid to get nasty, leaving a deliciously sinister aftertaste.
Random Observations
Have you seen The Ones Below?
If so, what did you think of this film? Let me know by leaving me a comment in the section below.