500 Days Of Film Reviews Documentary All This Panic
Shot over a three-year period, All This Panic takes an intimate look at the interior lives of a group of seven teenage girls as they come of age in Brooklyn, New York. A potent mix of vivid portraiture and vérité, the film follows the girls as they navigate the ephemeral and fleeting transition between childhood and adulthood.
Is It Any Good?
Watching the first few moments of All This Panic, I got a sinking feeling. Did I really want to spend time with this group of (pretty entitled) teenage girls? Their experiences felt rather frivolous compared to other documentaries I have watched in recent weeks (Tower, Cameraperson and The White Helmets to name but three).
However, I soon found myself being drawn into Jenny Gage's documentary. As I got to know the girls, I became increasingly gripped by their stories and struggles - watching with genuine interest and concern as they undergo the complex transition from girlhood to womanhood.  
Jenny Gage has been inspired by the adolescent period in a girl's life throughout her career. "It started when I was twelve, at the cusp of my own adolescence," she explains. "I picked up a camera and realized that, like a talisman, it gave me both access to and protected me from these beautiful and magical creatures".
After the birth of her daughter, the filmmaker started to wonder what it is like to be a teenage girl today. Gage has known two of the girls that feature in her film (Ginger and Dusty) for many years and, after they bravely agreed to take part, started to film them after school.
However, it is Ginger's friend, Lena, who becomes the emotional center of the film."There was no mistaking that she would be a large part of the story," Gage recalls. "Her friendship with Ginger, her openness and her struggles with her family made her story compelling, heartbreaking and wonderfully optimistic all at the same time."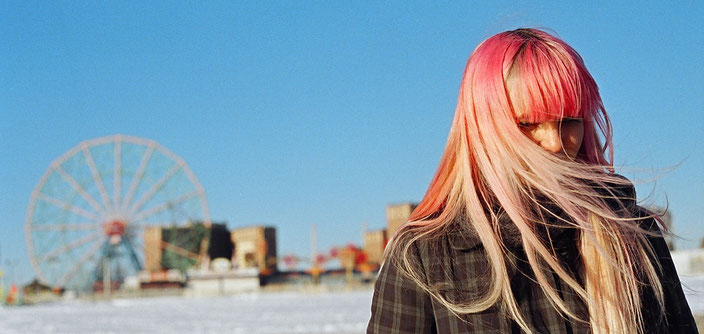 All This Panic's remarkable intimacy was born out of the access that Gage was afforded. It is also a result of her approach to the process of making the film. "I knew there needed to be an organic approach to the filming process to encourage the girls to feel free enough to share the kind of unimpeded intimacy we were seeking," she explains. 
"We shot this as a two-person crew with minimal equipment and relied solely on natural light. This was a film about the inner lives of the girls, therefore the camera needed to be an extension of what the girls were seeing and feeling."
Gage and cinematographer, Tom Betterton, shot the film on handheld cameras - using kinetic visuals to emulate how teenage girls communicate. Gage believes that "our ability to be nimble, both with camerawork and where the conversations went, gave us opportunities to observe the real moments we needed to understand and be able to see what each girl was experiencing, both alone and within the group."
All This Panic is remarkable for capturing these real and intimate moments - moments that are both deeply personal and undeniably universal. 
Random Observations
Have you seen All This Panic? 
If you have, what did you think about Jenny Gage's documentary? Let me know by leaving me a comment in the section below!