500 Days Of Film Reviews Odeon Limitless One Year On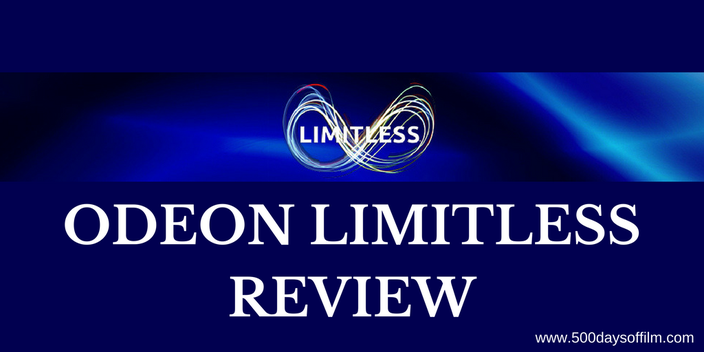 Just over a year ago, Odeon released Limitless - its cinema membership card. According to the multiplex, for £17.99 (£19.99 for London-based cinemas) you can see all the films you want, as often as you like.
Now I am no maths whiz but, with a full price adult ticket ranging from £10-13, I figured I would only need to visit the cinema twice a month in order for Limitless to make sound financial sense. Plus, by paying for 12 months of membership upfront, I saved an extra 5%. 
As a result, I was one of the early adopters of Odeon Limitless. One year on, I decided to see if it was worth my investment.
My first step was to count the films that I have seen at an Odeon cinema as part of my Limitless membership. Turns out, I watched 75 movies (you can see all of the titles below). Not too shabby - although I think I can do better! In addition, I watched Rogue One and La La Land twice. That makes 77 screenings.
---
Films I've Watched Via Odeon Limitless
Logan
Patriots Day
The Founder
Moonlight
Hidden Figures
Loving
The Lego Batman Movie
T2 Trainspotting
Hacksaw Ridge
Jackie
Sing
Lion
La La Land (X2)
Manchester By The Sea 
Monster Trucks
Passengers
Rogue One (X2)
Sully
Moana
Allied
A United Kingdom
The Beatles (doc)
Fantastic Beasts...
A Streetcat Named Bob
Hail, Ceasar!
Nocturnal Animals
The Accountant
Arrival
The Light Between Oceans
Ouija: Origins Of Evil
Doctor Strange
Jack Reacher...
I, Daniel Blake
Storks
The Girl On The Train
Deepwater Horizon
The Magnificent 7
Bridget Jones's Baby
Our Kind Of Traitor
Kubo And The Two Strings
Hell Or High Water
Bad Moms
Swallows & Amazons
Pete's Dragon
The Shallows
Star Trek Beyond
Finding Dory
The BFG
Jason Bourne
Ghostbusters
Absolutely Fabulous
Independence Day (R)
The Secret Life Of Pets
The Conjuring 2
The Nice Guys
Love & Friendship
Me Before You
Money Monster
Alice (Looking Glass)
Florence Foster Jenkins
Everybody Wants Some
Captain America: Civil War
Eye In The Sky
Green Room
The Jungle Book
Kung Fu Panda 3
Demolition
Midnight Special
10 Cloverfield Lane
Zootropolis
High Rise
Bridge Of Spies
Disorder 
---
Sadly, I haven't kept my tickets for all of these movies and, as a result, am not exactly sure how much I paid for each screening. However, if I err on the cheaper side and say that each ticket cost £10, the total comes to a rather shocking £770. 
However, I watched ten of these films as part of Odeon's Screen/Scream Unseen screenings. Tickets for these movies cost only £5, taking my total to £720. In addition,  I watched three of my films via Odeon's Silver Screen, which cost £3 per ticket (including a tea or coffee and a biscuit!). This reduces my total to £711.
I paid £205 for my Odeon Limitless membership. Based on a conservative estimate I have, therefore, saved over £506. Certainly makes renewal a no-brainer!
Fancy Joining Odeon Limitless?
If my Odeon Limitless review has tempted you to join, here is what you need to know.
You need to be 16 to sign up and the membership only entitles you to watch standard 2D films. IMAX and Odeon Event Cinema screenings are not included and you also have to pay a supplement to watch 3D films (an extra £2) and sit in Premier seats (an extra £1). In addition, some cinemas (mainly in London) are not included.  
Another rather irritating limitation with Limitless is that you can only book up to two films in advance. This has proved problematic for me during awards season when there are just so many movies to watch.
In addition, I wouldn't recommend Limitless for its discounts off food and drink. They are few and far between and are never really that great.
The biggest issue with Odeon Limitless concerns online booking. You can only use one Limitless membership per booking. So, for example, if you and your cinema buddy each have a Limitless card you would have to log in, book one seat on one membership, log out (remembering your seat number), log in again as your cinema buddy and book the next ticket. It is a nightmare.
However, I have heard that this is an issue that Odeon is working on - hopefully a solution will emerge soon.
Despute these niggles, I would highly recommend Odeon Limitless - particularly if visit the cinema around 24 times per year. I have absolutely loved being a member. On top of the cost saving, the membership gives you the freedom to watch films outside your comfort zone. You can take risks and, if you fall in love with a particular movie, you can go and see it again!
Random Observations
Have you joined Odeon Limitless? If you have, what do you think of this cinema membership? Would you recommend it to others?
If you have any questions about Limitless, just leave them in the section below and I will do my very best to help!