500 Days Of Film Reviews True Life Drama, The Founder, Starring Michael Keaton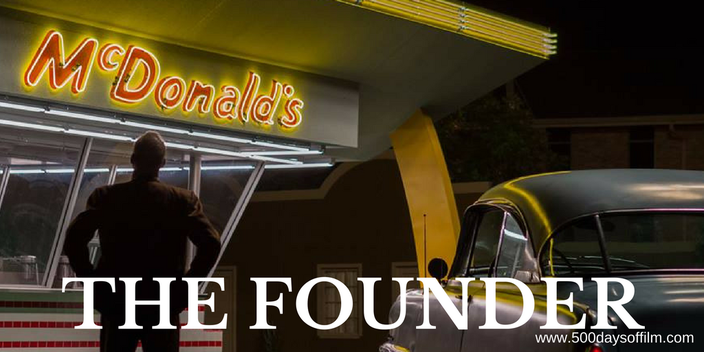 The Founder tells the true story of Ray Kroc who franchised McDonald's and developed a phenomenally successful restaurant brand and real estate empire.  
Is It Any Good?
How did a 52-year old, over the hill milkshake machine salesman build a fast food empire with 1600 restaurants and an annual revenue of $700m? Well, that is just what director John Lee Hancock sets out to explore in his latest movie, The Founder. 
However, this film is more than just a McDonald's/Ray Kroc bio pic. The Founder delves further, examining the dark, ruthless underbelly of this American success story - and its conclusions are far from appetizing.
Michael Keaton gives a superb, engaging and wonderfully nuanced performance as Ray Kroc. We can't help but root for him, particularly at the start. Life on the road is tough as his milkshake machines suffer rejection after rejection. We share his surprise and relief, therefore, when a small fast food restaurant in San Bernardino, California orders eight of his machines. 
This restaurant belongs to Dick and Mac McDonald (brilliantly played by Nick Offerman and John Carroll Lynch) and they have a fast food concept that stuns and inspires Kroc. Unlike the cautious, risk averse brothers, Kroc sees huge franchise potential in McDonald's restaurants and, finally, the chance of business success. 
It is The Founder's entertaining and nuanced storytelling that elevates it above the traditional bio pic. Without Ray Kroc, McDonald's would not be the global brand that it is today. It was his idea to franchise the restaurants, he worked hard to build the business and, while Dick and Mac continued working in their San Bernardino restaurant, Kroc shouldered the biggest financial risk. 
Why, then, shouldn't Kroc benefit from the restaurant chain's success? However, while we are still on his side, The Founder shifts its focus to highlight the dark heart of his ambition. Keaton's Kroc transforms into an utterly ruthless businessman - a fox in the hen house, prepared to annihilate anyone who stands in his way.
It is gripping, albeit unsettling stuff. Despite the plethora of burgers on display, The Founder's nuanced depiction of Ray Kroc leaves a sour aftertaste.
Random Observations
Have you seen The Founder?
If you have, what did you think of this film? Were you tempted to buy a Big Mac afterwards or did the movie leave a nasty aftertaste? Whatever the case, let me know by leaving a comment in the section below!