500 Days Of Film Reviews Musical, Singin' In The Rain, Starring Gene Kelly And Debbie Reynolds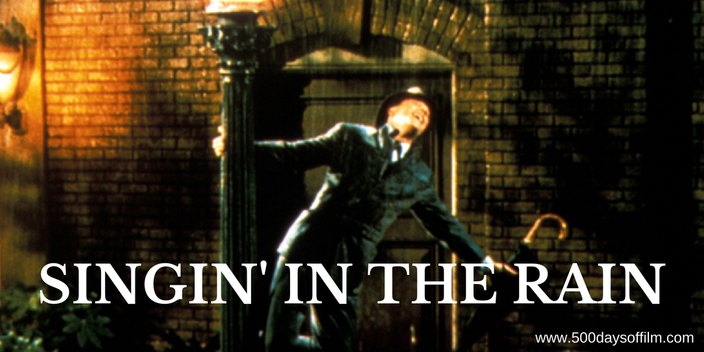 Film stars, Don Lockwood (Gene Kelly) and Lina Lamont (Jean Hagen), form one of Hollywood's most sought after celebrity couples. However, their relationship is nothing more than just another role they play - a role that is getting ever more challenging as the film industry moves from silent films to talkies.
A chance meeting with aspiring actress Kathy Selden (Debbie Reynolds) offers Don a fresh start in his career - and the chance of true love.
Is It Any Good?
The sad passing of Debbie Reynolds and the release of Damien Chazelle's La La Land have spurred many film lovers to revisit Gene Kelly and Stanley Donen's classic film, Singin' In The Rain. Released in 1952, it feels as fresh and wonderfully entertaining as ever.
Singin' In The Rain was Gene Kelly's 13th musical motion picture at
Metro-Goldwyn-Mayer (MGM). Taking Betty Comden and Adolph Green's wonderful story, Kelly and Donen paired it with songs picked from a catalog created by Arthur Freed and Nacio Herb Brown.
The ensuing magical mix of superb actors, talented directors, spectacular musical numbers and brilliant story created what is one of cinemas most beloved movie musicals.
Gene Kelly often described his iconic Singin' In The Rain street dance as "simple". Many mere mortals would, of course, disagree - especially when you realise that Kelly was running a temperature of 103 degrees Fahrenheit at the time. 
What was difficult, according to Kelly, was capturing those rain splashes on camera. All credit then to cinematographer, Harold Rosson, who worked so hard to create such a visually stunning, memorable and joyous scene.
Another glorious sequence involves Donald O'Connor's Cosmo Brown. Combining his phenomenal dancing talent with his natural comic ability, O'Connor is utterly mesmerizing during the "Make 'Em Laugh" musical number. 
However, according to reports, O'Connor had to spend three days in bed after shooting this scene. His efforts were later rewarded when he won the Golden Globe for Best Actor – Motion Picture Musical or Comedy for his performance.
Meanwhile, Jean Hagen's superb and hilarious portrayal of Lina Lamont was also recognised during awards season. She was nominated for an Oscar for Best Supporting Actress.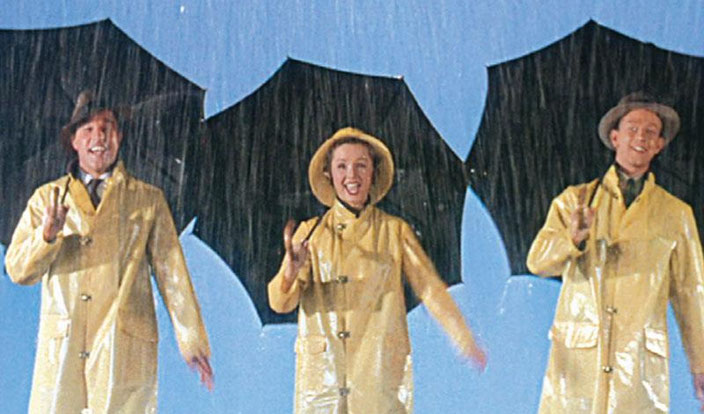 Debbie Reynolds also suffered for her art during the making of Singin' In The Rain. Only 19, she is adorable as Kathy - a luminous screen presence. However, behind the scenes she struggled with a brutal schedule. Her doctor advised rest, but MGM insisted that she return to work.
Reynolds managed to complete the shoot and the role launched her career into super stardom. It is incredible to watch her dancing with Gene Kelly and Donald O'Connor and realise both how young she was and also how inexperienced. She more than holds her own in this movie.
Both Reynolds and Kelly expressed surprise at how Singin' In The Rain became such an enduring classic. Countless filmmakers have tried to recreate the magic within this movie - precious few have succeeded.
In referring to Kelly and Donen's film in La La Land, Damien Chazelle does not attempt to reinvent the wheel. Rather he pays loving and respectful homage to a true classic and, in so doing, introduces the movie to a new audience.
Singin' In The Rain is a truly special movie and, 65 years after its release, looks set to be loved by many future generations to come.