500 Days Of Film Reviews Documentary, Embrace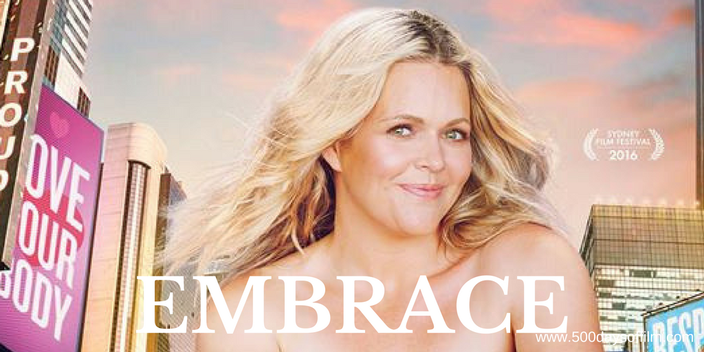 Disgusted by her body after the birth of her third child, Taryn Brumfitt decided to enter a bodybuilding contest. 15 weeks later, she achieved her goal - the perfect bikini body. 
However, just when she thought that she would (finally) be content and proud of her body, Brumfitt discovered that she was, in fact, no happier. Her obsessive fitness and diet regime had not been worth all that she had sacrificed.
This realisation proved a major turning point for Brumfitt. She regained balance in her life - eating well, exercising and spending quality time with her family. On her own terms, Brumfitt embraced her body.     
. 
Determined to help others achieve this same balance, Brumfitt shared a before and after image on Facebook. The 'before' image showed her (supposedly) perfect bikini body and the 'after' shot was of the body that she now loved. 
The photograph went viral, making headline news. Women and men responded in their thousands, each sharing their own heartbreaking stories. In response, Brumfitt decided to investigate why so few women embrace their bodies.
Is It Any Good?
Embrace is a powerful, funny and moving documentary about a truly disturbing global trend. Women across the world feel uncomfortable in their own skin often (as witnessed in the film) describing their bodies as "disgusting".
Investigating just what is driving this negative self image, Embrace targets two key suspects: fashion and the media. Nothing new, perhaps. However, the fashion industry's revulsion for any non-skeletal woman still feels genuinely shocking.
Brumfitt explores the dangers of having a negative body image - talking to an anorexia sufferer in one truly heartbreaking scene. She also highlights the disturbing trend of body shaming and examines the impact of surgical 'solutions'. In addition, Embrace looks at the troubling rise of labiaplasty procedures and briefly addresses the still taboo subject of female genitalia.
Of course, instilling a positive body image is easier said than done. However, the stories shared in Brumfitt's film (from women in the public eye such as Riki Lake and Amanda de Cadenet and also inspirational women who, after facing significant challenges, love their bodies regardless) will surely help sufferers from feeling so alone.
Embrace feels like the beginning of a powerful and positive movement for both men and women. By drawing our attention to this problem, the film challenges our way of thinking. As Brumfitt states in her original Facebook post: "be loyal to your body, love your body, it's the only one you've got".
Random Observations
This movie has not been widely distributed so is worth seeking out online. You can rent or buy it via Amazon Video. 
Have you seen Embrace? If you have, what did you think about this documentary? Let me know in the comments section below!