500 Days Of Film Reviews Drama, T2 Trainspotting, Starring Ewan McGregor, Ewen Bremner, Jonny Lee Miller And Robert Carlyle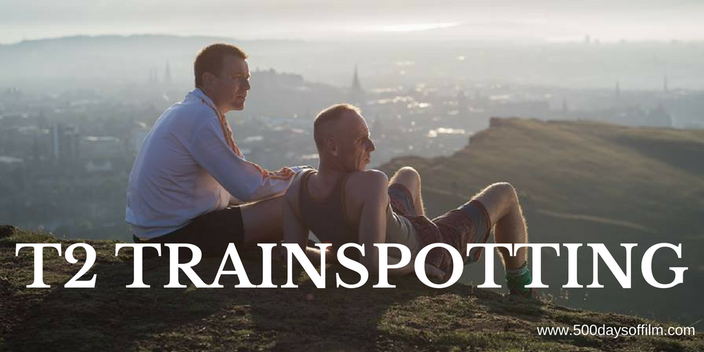 First there was an opportunity......then there was a betrayal. After 20 years, Mark Renton (Ewan McGregor) returns to the only place he can ever call home. Reunited with Spud (Ewen Bremner), Sick Boy (Jonny Lee Miller) and Begbie (Robert Carlyle), Renton realises that while much has changed, just as much remains the same.
Is It Any Good?
Any sequel to a much loved film is cause for concern. Is the follow-up motivated by story or money? Will it tarnish the memory of the original? Therefore, anxiety surrounding the sequel to Danny Boyle's 1996 iconic film was only to be expected. 
Thankfully, T2 Trainspotting is no financial smash and grab. This is a sequel made with love and respect. While it does not come close to the stature and power of Trainspotting (what film could?), it is nonetheless great to catch up with Renton, Spud, Sick Boy and Begbie.
Reminiscing about the cultural phenomenon that was Trainspotting, it is easy to remember the infectious exhilaration of Boyle's original film. It is, perhaps, harder to recollect the movie's bleakness, its horror. 
Trainspotting did not look away from the reality of addiction - even when we wished that it would. Within minutes we see baby Dawn crawling around Swanney (Peter Mullan)'s flat - a place filled with drugs and needles. We are introduced to the "worst toilet in Scotland" not long afterwards. 
In comparison, T2 feels softer, still bleak but nowhere near as upsetting or
disturbing. Replacing Trainspotting's unflinching focus on disaffected youth and addiction, is a more melancholic look at time, masculinity and age. As a result, the sequel lacks the unforgettable raw power of the original. However, T2's atmosphere remains authentic - the change a result of the natural passage of time. 
Renton is now Mark, Sick Boy is Simon and Begbie is Francis - older but, of course, no wiser. Each character feels true to the person we knew 20 years ago. Spud, meanwhile, is still Spud. In more ways than one, T2 is Spud's story. A tale of regret and loss, hope and redemption, Spud is the endearing, enduring heart of this film.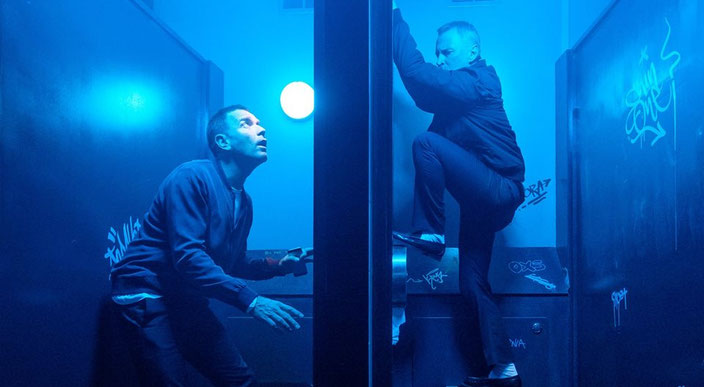 T2 Trainspotting was written by John Hodge (who also wrote the screenplay for Trainspotting), inspired by elements in Irvine Welsh's books Trainspotting and Porno and his own personal experience with the 'aging process'. 
Despite the film's exploration of memory and time, T2's plot feels insubstantial - a collection of scenes designed to evoke nostalgia. (Trainspotting is a far more insightful film in comparison.) However, that nostalgia is handled well in what is an extremely stylish movie thanks to Danny Boyle's incredible vision and Anthony Dod Mantle's superb cinematography.
Glimpses of Trainspotting are peppered throughout T2, but never overdone. Boyle toys with our memories and our expectations, teasing us with familiar locations, passionate monologues and, of course, incredible music. 
T2 Trainspotting may not reach the highs of the original but, after 20 years, it is a welcome and hugely entertaining hit of nostalgia.
Random Observations
Danny Boyle has said that, in total, there is only about a minute of footage from Trainspotting in T2.
Have you seen T2 Trainspotting?
If you have, what did you think of this movie? Let me know by leaving your comments in the section below!