500 Days Of  Film Reviews True Life Drama, Christine, Starring Rebecca Hall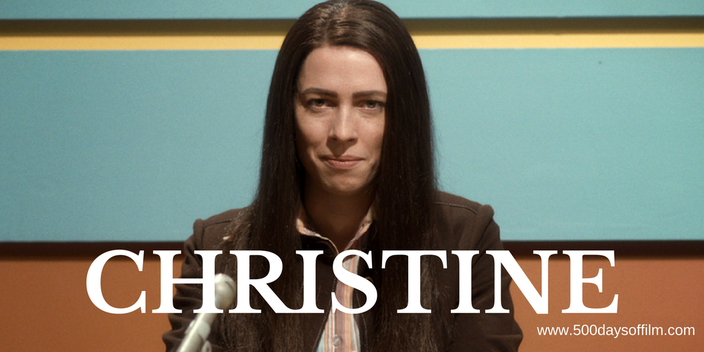 "In keeping with Channel 40's policy of bringing you the latest in blood and guts, and in living colour - you are going to see another TV first: attempted suicide."
Seconds after reading these words on 15th July 1974, Christine Chubbuck, an reporter working for a television news station in Florida, pulled out a revolver and shot herself in the head - live on air.  
Chubbuck was rushed to hospital where she died 14 hours later. She was 29 years old.
What drove this smart and ambitious woman to such an act? Was her suicide the result of a battle with clinical depression? Or did she take her life in defiance of the growing level of sensationalism in the media where 'if it bleeds, it leads'?  
Is It Any Good?
Director, Antonio Campos, describes the last months of Christine Chubbuck's life as a "perfect storm"*. She was at odds with her news director (powerfully played here by Tracy Letts) over the type of stories that she should cover. She felt awkward in social situations, harbouring unrequited feelings for news station anchor, George Ryan (brilliantly portrayed by Michael C. Hall) and she suffered long term challenges with her physical and mental health.
It is likely that the combination of all these pressures led to her suicide. Sadly, Chubbuck is far from alone. According to the 2016 Samaritan Suicide Statistics Report, there were 6,581 suicides in the UK and Republic of Ireland in 2014. "Suicide is complex," explains The International Association for Suicide Prevention. "It usually occurs gradually, progressing from suicidal thoughts, to planning, to attempting suicide and finally by dying by suicide".
The only difference between Christine Chubbuck and thousands of other suicide victims is the fact that she chose to kill herself live on air. While Campos' movie is engaging and respectful in its storytelling and while Rebecca Hall gives a truly stunning performance, Christine also leaves a sour taste. Isn't this just the type of film that Christine Chubbuck fought against?
Interestingly, Christine is one of two recent movies exploring the life and death of Christine Chubbuck. In October 2016, Robert Greene's Kate Plays Christine also
looked at what drove Chubbuck to commit suicide. Part documentary, part psychological thriller, the film follows actress Kate Lyn Sheil as she prepares to portray Chubbuck.
"Kate Plays Christine was an attempt to evoke the impossibility of making a movie about this kind of tragedy," Greene explains. "It's a film about the relationships between staged and real selves and how observing the gulf between the two can help us feel and think about the emptiness associated with the kind of depression that can lead someone to make the fateful decisions Christine made." 
Greene adds that his film is "also about whether these kinds of stories need to be told at all, or if they're simply sensational and inherently sexist and just feed into the very thing that Christine was protesting against with her final words about 'blood and guts television'."
I felt haunted by the questions raised in Kate Plays Christine while I watched Christine. As a result, I wanted more from Campos' film than a rather pedestrian bio-pic. I wanted this film to make better use of Rebecca Hall's outstanding performance. I wanted Christine to use the inherent drama of its tragic true story to explore the challenges faced by those suffering mental health problems.
Christine did not deliver these things for me and now I cannot help but think, what was the point? 
Random Observations