500 Days Of Film Reviews Rogue One Starring Felicity Jones, Diego Luna and Ben Mendelsohn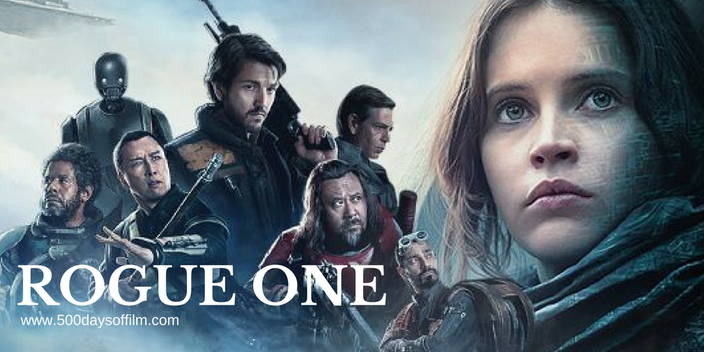 In a time of great conflict, a group of unlikely heroes, led by rebel Jyn Erso (Felicity Jones), band together and embark upon a dangerous mission to steal the plans to the Empire's ultimate weapon - the Death Star.
Is It Any Good?
THIS REVIEW DOES NOT CONTAIN SPOILERS
Every Star Wars film carries the almost crushing weight of audience expectation. One can only imagine the pressure Gareth Edwards must have been under. You really don't want to be the director who makes a mess of this newly invigorated franchise. 
Huge relief all round then as Rogue One is an entertaining, fan pleasing and extremely satisfying addition to the iconic sci fi series.
This movie looks stunning, sounds wonderful, contains plenty of Star Wars geekery and, most important of all, has a powerful story that makes sense both on its own and as part of the wider narrative. 
Rogue One features a group of exciting new characters as well as a few more familiar faces. I loved Felicity Jones' feisty portrayal of Jyn Erso and enjoyed the company of her entire crew. Rogue One's central robot, K-2SO (voiced by Alan Tudyk), is very entertaining, providing some welcome comic relief.
Special mention, however, has to go to Donnie Yen's scene stealing performance as sightless warrior, Chirrut Imwe. He has a magnetic screen presence and his relationship with Baze Malbus (Wen Jiang) is entertaining and poignant.
Meanwhile, on the dark side, Ben Mendleson plays Director Orson Krennic with evil relish. Krennic has staked his reputation on the success of the Death Star and will go to any lengths to bring his devastating project to completion. The iconic battle station with its awesome potential for destruction is quite a sight to behold. 

At  2 hours and 14 minutes, Rogue One takes its time in building to its climactic scenes. While the film's middle section could have been tighter and the initial planet hopping and character intros are a little dizzying, all flaws are easily forgotten.
Rogue One gains tremendous momentum as it reaches its final act. It is here that Edwards revels in the freedom of his one-off story. Unencumbered by the constraints of a series, he can tell his story as it needs to be told and have a lot of fun in the process.
As Rogue One draws to a close, pulse racing action sequences are layered with emotional and moving scenes - culminating in what is an immensely satisfying ending. 

Random Observations
Gareth Edwards, a huge Star Wars fan, built detailed 360 degree sets for Rogue One, giving his cast the freedom to move without having to hit a certain mark. He also encouraged improvisation in his film. 
There are some lovely Star Wars creatures in Rogue One thanks to creature effects supervisor, Neal Scanlan, and his team.  
Rogue One is rated 12 by the BBFC for scenes of 'moderate violence'. While there is a lot of 'action' violence, the movie does not dwell on any injuries or feature any gore. However, the film does have some scenes that may upset or disturb younger children.  
If you enjoyed Gareth Edwards' film, I would recommend you watch his first feature, Monsters.
Have you seen Rogue One?
If you have, what did you think of this new addition to the Star Wars franchise? Let me know in the box below… but no spoilers please!!