500 Days Of Film Reviews Christmas Horror, Krampus, Starring Adam Scott And Toni Collette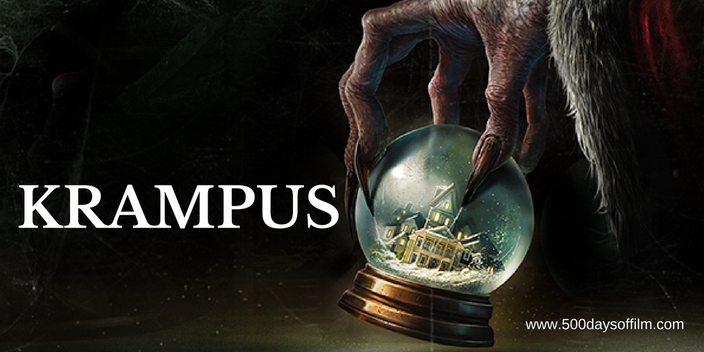 When his dysfunctional family clashes over the holidays, Max (Emjay Anthony) becomes disillusioned and turns his back on Christmas. Tearing up his letter to Santa, he hurls the pieces out of his bedroom window.
However, unbeknownst to Max, his lack of festive spirit has unleashed the fury of Krampus: a demonic force of ancient evil intent on punishing non-believers.
Horror movies are more than welcome at this time of year. After all, something has to save us from the saccharine sweetness of most Christmas movies. As a result, I am predisposed to like films such as Krampus.
Michael Dougherty's entertaining movie explores the dark and twisted side of the festive season - a place where the world has forgotten the true meaning of Christmas.
The emphasis in on fun and there is much enjoyment to be had - particularly in spying the film's horror references (including Alien, Predator, Gremlins, and Rare Exports) and watching Christmas gifts and holiday icons turn evil.
However, despite its undercurrent of nastiness, Krampus is not a scary or even particularly suspenseful movie. The jump scares are pretty lame and the plot is predictable. The film's tone is uneven - Krampus feels like a children's adventure movie that occasionally tips into adult territory (enough to warrant its 15 rating). 
Ultimately, Krampus is silly, forgettable nonsense. However, isn't that exactly what you need at Christmas?
Random Observations
If you fancy a tense and creepy Christmas horror, I  would highly recommend Rare Exports.
Have you seen Krampus?
If you have, what did you think of this movie. Let me know your thoughts by leaving me a comment in the box below!