500 Days Of Film Reviews Ten Tinsel-Tastic Classic Christmas Movies For The Forthcoming Festive Season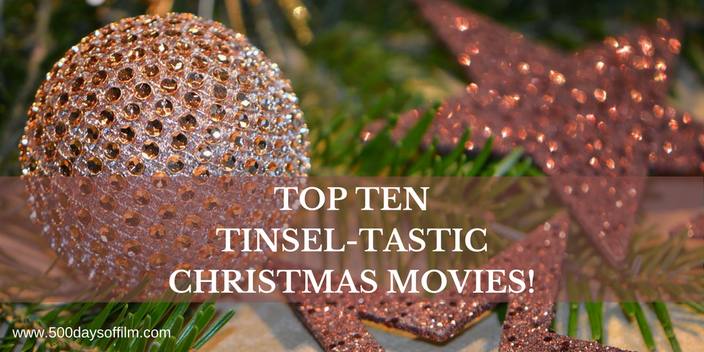 It's the most wonderful time of the year once again. And (whether you agree with Andy Williams or not) what better time to cosy up and snuggle down with a classic film?
What movies do you love to watch at Christmas?
I have a number of films that I just have to see during the festive season. Films that make me laugh, films that make me cry, films that entertain me and films that scare.
So, without further ado, here are my top ten favourite Christmas movies! 
Top 10 Christmas Movies
10. The Family Stone
I watch this film every year. It makes me laugh and makes me feel all Christmassy. (I also have a little cry at the end.) The Family Stone features great actors that are just fun to watch - including Diane Keaton, Craig T Nelson, Claire Danes and Elizabeth Reaser. It is a sweet slice of Christmas movie fun!
9. Bad Santa
Billy Bob Thornton is brilliant in this film about an alcoholic department store Santa. Bad Santa is a perfect choice if you fancy an alternative (less saccharine) Christmas tale.
8. Rare Exports
What would happen if the real Santa was not so kind and cuddly? What would happen if he was actually a scary, child stealing, reindeer slaying murderer? Watch the superb Rare Exports to find out!
7. The Muppet Christmas Carol
Every year this film makes me laugh and then moves me to tears. I can't think of Fezziwig without thinking of Fozzie Bear and Michael Caine is brilliant as Scrooge.
The Muppet Christmas Carol also features the most gorgeous Christmas song - It Feels Like Christmas. Light the lamp not the rat! 
6. Love Actually
Love Actually is so sweet it will rot your teeth. However, I can't let Christmas go by without watching Richard Curtis' classic film about the romantic lives of eight couples. It's just tradition and you don't mess with tradition.
5. Miracle On 34th Street
Miracle On 34th Street is another classic in my house. I just love this movie and the message it delivers: you are never too old to be a part of the magic of Christmas. Phew! I love both the original 1947 version and 1994's remake with Richard Attenborough.
4. Home Alone
Home Alone is pure Christmas fun. This timeless movie emphasises the importance of family during the festive season. It also features the always brilliant John Candy. And who could resist Kevin's ingenuity? Those broken baubles get me every time... yikes that's gotta hurt! 
3. Die Hard
Christmas isn't Christmas without John McClane. Bruce Willis is superb in Die Hard and, after a barrel load of non-stop action, the film finishes with lots of feel good Christmas spirit. I just love this movie from start to finish. Now I have a machine gun. Ho. Ho. Ho. Pure genius!
2. Elf
Elf will always have a special place in my heart. Will Ferrell is just so endearing as over-sized elf, Buddy, and I also love Zooey Deschanel in this movie. Whenever I watch Elf, I laugh all the way through and am left feeling super Christmassy afterwards. Perfect.
1. It's A Wonderful Life
Of course! The number one spot on this list could only be filled by It's A Wonderful Life. If you want a feel good Christmas film you need look no further. Plus it has the wonderful James Stewart - what more could you possibly want?
What's Your Favourite Christmas Movie?
Well there you have it, my top 10 favourite Christmas movies. What do you think of my list? Do you agree? Disagree? What film would you add?
Whatever the case, I'd love to know. Just leave me a comment in the box below.
Merry Christmas!