500 Days Of Film Reviews Real Life Drama, A United Kingdom, Starring Rosamund Pike, David Oyelowo and Jack Davenport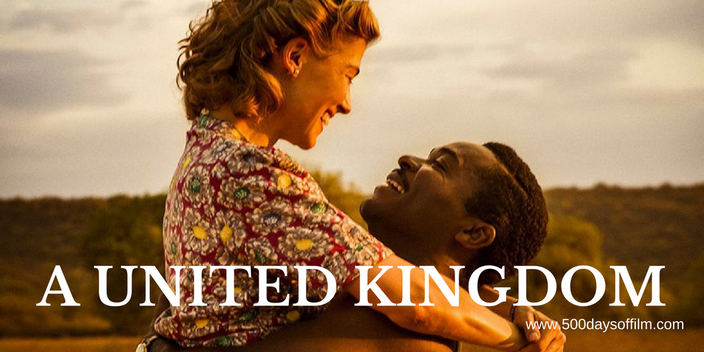 A United Kingdom tells the inspiring true story of Seretse Khama, the king of Bechuanaland (modern Botswana), and Ruth Williams, the London office worker that he married in 1948 in the face of fierce opposition from their families and the British and South African governments. 
Seretse and Ruth defied family, apartheid and empire. Their love triumphed against all odds and their story transformed their nation and inspired the world.
Is It Any Good?
A United Kingdom is director Amma Asante's third film. Much like her second feature, Belle, Asante uses an intimate true story to explore important, relevant and global themes. As a result, A United Kingdom is as much about apartheid and post-war politics as it is about the inspiring love story of Seretse Khama and Ruth Williams.
Asante has often talked about her desire to make films exploring important issues. However, she also wants to make movies that are accessible and enjoyable. A United Kingdom succeeds on both counts. This is a immensely entertaining and moving film. 
The romance between Seretse Khama and Ruth Williams is wonderfully portrayed. Oyelowo and Pike create an utterly convincing relationship, imbued with infectious innocent happiness. This, of course, is in stark contrast to how the rest of the world views their love.
As one might expect following his performance as Martin Luther King in Selma, Oyelowo is superb in A United Kingdom. He conveys both Seretse's strength and his vulnerability. While Seretse gets all the stirring speeches, Pike's heartfelt portrayal of Ruth is just as powerful. She is strong, steadfast and inspiring. This is as much her story as it is his.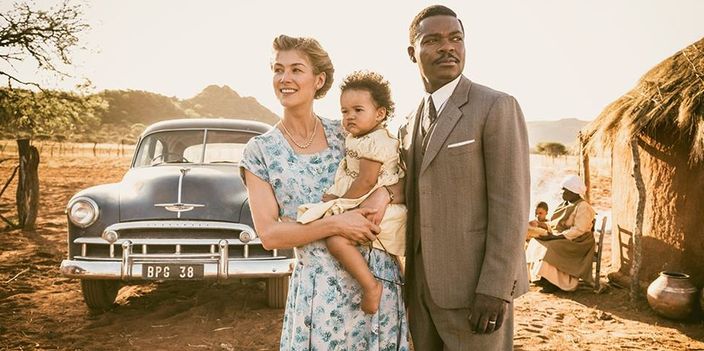 Alongside its powerful storytelling and performances, A United Kingdom is visually stunning thanks to Sam McCurdy's cinematography. You can almost feel the dank, grey drizzle of 1940s London and the searing orange heat of Bechuanaland.   
The film's costume and production design are also extremely impressive. Unsurprising, really, given the caliber of those responsible. Master production designer, Simon Bowles, has created utterly convincing physical sets. It is a pleasure to spend time in both locations.
Meanwhile, A United Kingdom's costumes were designed by Jenny Beavan who won this year's Oscar for Best Achievement In Costume Design for her work on Mad Max: Fury Road. 
Amma Asante has, once again, created an entertaining and inspiring film about a moment in history that feels all too relevant today. Do go and see this movie.
Random Observations
A United Kingdom is based on the book, Colour Bar, by Susan Williams. It was adapted for the screen by Guy Hibbert, who also wrote the screenplay for Eye In The Sky.
Lovely to see Jack Davenport on screen again. I enjoyed his portrayal of the odious (and fictional) Sir Alistair Canning.  
A United Kingdom reunites the cinematographer (Sam McCurdy) and production designer (Simon Bowles) from my favourite horror movie, The Descent. 
Amma Asante has spoken of the challenging heat in Botswana. Temperatures reached an incredible 50 degrees Celsius during the filming of scenes in the Kharma's home. Props to the cast - they all look serene and powder fresh throughout!
Have you seen A United Kingdom? If you have, what did you think of Amma Asante's film? Do let me know in the box below!