500 Days Of Film Reviews Drama, A Street Cat Named Bob, Starring Luke Treadaway And Bob The Cat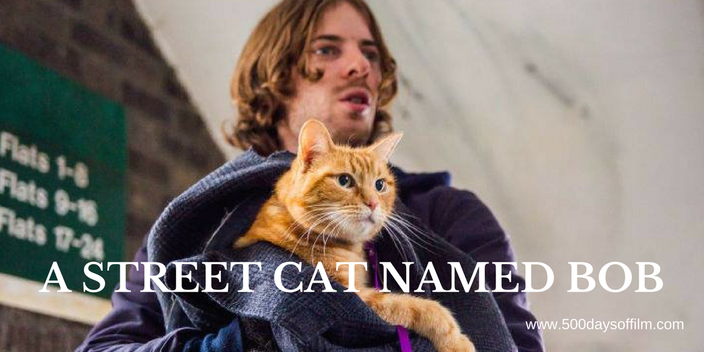 Homeless recovering drug addict, James (Luke Treadaway), pulls his life back from the brink after a cat called Bob steals into his life and into his heart.
Is It Any Good?
I was surprised when the tears came at the end of A Street Cat Named Bob. I (who didn't shed a single tear during weepy, The Light Between Oceans) just hadn't realised how much this true story was affecting me emotionally.
Nonetheless, A Street Cat Named Bob hit a nerve - as it has with audiences nationwide. Not, perhaps, because it is a superior piece of filmmaking but, with its message of redemption and second chances, because it feels like a movie we so desperately need. 
Oh and it may also have something to do with Bob… he really is quite gorgeous. While Luke Treadaway gives a lovely performance as James (and this role can't have been easy in practical terms), Bob steals the show.
A Street Cat Named Bob centers on the experiences of both James and Bob. Sadly, this does not always work. The cat cam is irritating and the movie's focus shifts uneasily between cute feline adventure and the darkness of drug addiction. 
However, the feel-good moments of A Street Cat Named Bob are a much needed antidote for today's troubled times. This is a film with an undeniably good heart and, for that, I was more than willing to forgive its flaws. 
Random Observations
It was a stroke of genius to get Bob to play himself in this movie... along with several other Bob-a-likes, of course.
A Street Cat Named Bob is rated 12. The BBFC notes that the film contains "several verbal and visual references to drugs and drug misuse". As a result, I would caution against taking children much younger than 12 to see this movie - this is not Lassie Come Home. 
Roger Spottiswoode has experience working with animals - he directed Turner & Hooch! 
Have you seen A Street Cat Named Bob?
If you have, what did you think of this feline film? Let me know by leaving me a comment in the box below!