500 Days Of Film Reviews Comedy, Elvis & Nixon, Starring Michael Shannon And Kevin Spacey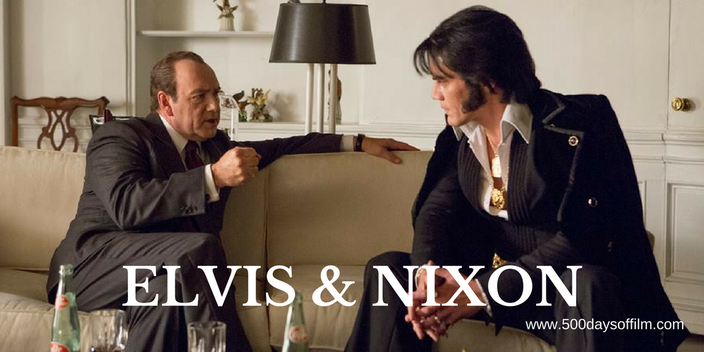 One December morning in 1970, the King of Rock 'n Roll (Michael Shannon) arrived at the White House with a six page, handwritten letter requesting a meeting with President Nixon (Kevin Spacey).
Concerned about the youth of America, Elvis Presley wanted to help the US government by becoming an undercover Federal Agent At Large. And he wanted the credentials to prove it.  
Initially stunned, White House staffers soon saw the meeting as an opportunity for Nixon to appeal to younger voters and also snag an autograph for his daughter, Julie.
And so a meeting was arranged in the Oval Office between Elvis and Nixon, a moment forever immortalized in the most requested photograph in the US National Archives.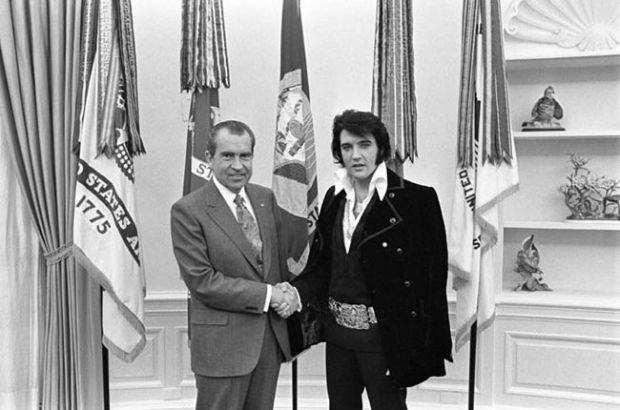 Is It Any Good?
Director, Liza Johnson's, film starts with a preface: "In December 1970, Elvis Presley decided that his country needed him. On February 16, 1971, Richard Nixon began audio recording every meeting and phone call in the Oval Office. There is no transcript of what happened in between."   
The truth is we don't know exactly what happened that day in the Oval Office. We don't know what Elvis and Nixon talked about and whether these two very different men got along. 
However, Elvis & Nixon has a lot of fun imagining what went down that day and there is enough truth here - via the testimony of Jerry Schilling (played by Alex Pettyfer), Elvis' friend and companion during his trip and Bud Krogh (played by Colin Hanks), the White House aid (and huge Elvis fan) who organised the meeting - to give this lighthearted comedy some historic grounding. 
The tone of the movie (and much of its running time) rests on Michael Shannon's superb performance. In a featurette on the movie's website, the actor says that he "tried to make sure that I didn't get too caught up in impersonation and that I devoted as much energy contemplating what was going on inside of him as I did in trying to seem like him on the outside."
Shannon plays this role beautifully. He doesn't, of course, look or sound anything like Elvis Presley. (Let's face it, who does?) However, within minutes, this simply doesn't matter. By downplaying the King's iconic voice and mannerisms, Shannon reveals something far deeper about the man. 
Kevin Spacey, meanwhile, does emulate Nixon in both speech and posture. However, his performance works - perhaps because Nixon appears fleetingly. Spacey was attracted to this role for the chance to act with Shannon and the two have wonderful chemistry on screen.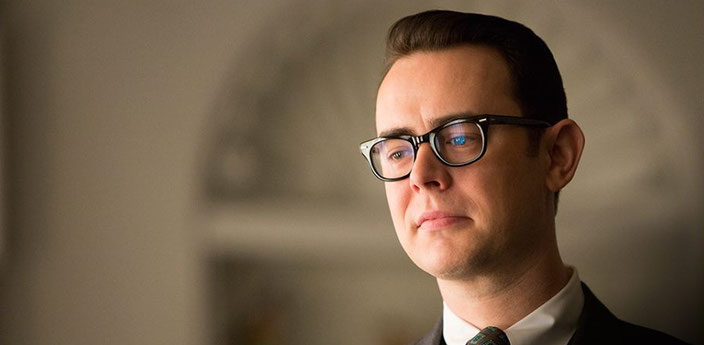 I thoroughly enjoyed Elvis & Nixon and found the sequences between Shannon and Spacey very entertaining. I could, however, have dispensed with other elements of the film's narrative - particularly the scenes featuring Johnny Knoxville as Sonny West and those depicting Schilling's need to fly home to his girlfriend.  
For me, the character with the most interesting story to tell is neither Elvis or Nixon but Bud Krogh. Krogh, who was imprisoned for his part in the Watergate scandal, took detailed notes about a meeting that he described, in a 2007 speech, as "miraculous" and his own "Forrest Gump experience". 
Colin Hanks (so like his father in this film) portrays Krogh's excitement and anxiousness perfectly.
He is responsible for many of the film's laugh out loud moments and, as much as I enjoyed watching Elvis and Nixon, his was the story that I wanted to hear more about.  
Random Observations
Have you watched Elvis & Nixon?
If you have, what did you think of this film? Let me know by leaving me a comment in the box below!