500 Days Of Film Explores The Wonderful World Of Japanese Animation Powerhouse, Studio Ghibli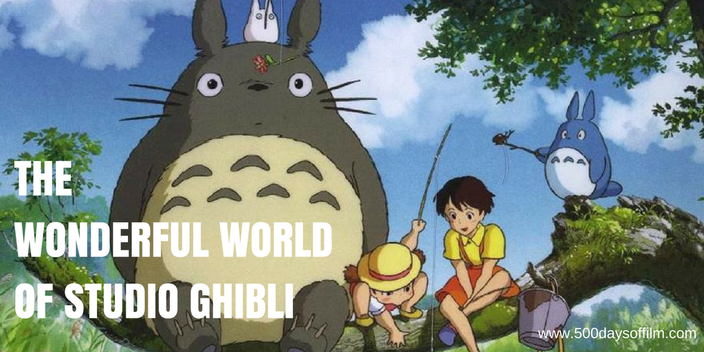 The world of Studio Ghibli is a wondrous place. The films from Japan's legendary animation studio feature stunning visual design, intricate and poignant stories with strong female protagonists and wonderful musical scores. 
The studio was established in 1985 by filmmakers and animators Hayao Miyazaki and Isao Takahata. They called their new organisation 'Ghibli', which is the word for a hot, dry southerly wind of North Africa - a sign that they wanted to blow a new wind through the Japanese animation industry.
In the years since its creation, Studio Ghibli films have seen phenomenal critical and box office success. Nine of Studio Ghibli's films are among the 20 highest-grossing animated films made in Japan and many (including My Neighbor Totoro, Grave of the Fireflies and Spirited Away) are considered to be some of the greatest animated films of all time.
If you are unfamiliar with these gorgeous animated feature films, here are ten movies that will make you fall in love with Studio Ghibli:
Laputa: Castle in the Sky
Year Of Release: 1986
Directed By: Hayao Miyazaki
English Voice Cast: Anna Paquin, James Van Der Beek, Cloris Leachman, Mark Hamill and Mandy Patinkin
Castle In The Sky was the first film produced and released by Studio Ghibli. It is a truly wonderful adventure and includes many themes (flight, the environment and the dangers of war) that Miyazaki would return to in later films. 
The friendship between Pazu and Sheeta is absolutely gorgeous, hilarious and poignant. One of my favourite Studio Ghibli films, Castle In The Sky feels as fresh now as it did 30 years ago.
My Neighbor Totoro
Year Of Release: 1988
Directed By: Hayao Miyazaki
English Voice Cast: Dakota Fanning, Elle Fanning and Kimberly Guerrero
My Neighbor Totoro is my favourite Studio Ghibli film. It is also the movie that introduced Japanese animation to the world. The film tells the story of two young girls and their father who move to a new home in the country after their mother is hospitalised. When the sisters explore the forests nearby, they meet some truly magical creatures.
Toroto is one of the most iconic and beloved animated characters in history and is also the Studio Ghibli mascot. 
Kiki's Delivery Service
Year Of Release: 1989
Directed By: Hayao Miyazaki
English Voice Cast: Kirsten Dunst, Debbie Reynolds, Phil Hartman and Janeane Garofalo 
Kiki's Delivery Service is based on the award-winning children's fantasy novel by Eiko Kadano. This is a wonderful story about growing up and discovering independence. It is light and fun and has a gorgeous heart.
Many of the settings in Miyazaki's films are inspired by real locations. Miyazaki's animation team visited Stockholm and Visby in Sweden to research landscapes and other elements for the film's fictional city of Koriko.
Princess Mononoke
Year Of Release: 1997
Directed By: Hayao Miyazaki
English Voice Cast: Billy Crudup, Billy Bob Thornton, Minnie Driver, Claire Danes,
Jada Pinkett Smith and Gillian Anderson
Princess Mononoke is a darker Studio Ghibli film about a quest to discover the cure for a terrible curse. The film marked many firsts for Miyazaki. It was his first film to incorporate computer animation and was also the first animated feature to gross more than 10 billion yen at the Japanese box office. 
The film explores one of Miyazaki's key themes - the importance of protecting the environment - and features a strong female protagonist. Miyazaki has said that Princess Mononoke was set during the Muromachi period because it "was a world in which chaos and change were the norm. It was a more fluid period, when there were no distinctions between peasants and a samurai, when women were bolder and freer".
Spirited Away
Year Of Release: 2001
Directed By: Hayao Miyazaki
English Voice Cast: Daveigh Chase, Suzanne Pleshette, Lauren Holly, Michael Chiklis and John Ratzenberger
Considered to be one of the best films of all time, Spirited Away won the Oscar for Best Animated Feature and the Golden Bear at the Berlin International Film Festival. The detail within the animation is stunning and the film's story, about a young girl's journey to rescue her parents, is gripping and moving. Spirited Away became the highest-grossing film in Japanese box office history following its release.
Howl's Moving Castle
Year Of Release: 2004
Directed By: Hayao Miyazaki
English Voice Cast: Emily Mortimer, Blythe Danner, Lauren Bacall and Christian Bale
Based on a novel by Diana Wynne Jones, Howl's Moving Castle, about a young woman who is cursed with an old body by a spiteful witch, received an Oscar nomination for Best Animated Feature. This film features amazingly imaginative scenes and stunningly innovative animation.
Ponyo
Year Of Release: 2008
Directed By: Hayao Miyazaki
English Voice Cast: Cate Blanchett, Matt Damon and Liam Neeson
I love Ponyo. This wonderful story (about a boy who befriends a goldfish that transforms into a human) is both hilarious and deeply poignant. Miyazaki returned to traditional (and so beautiful) hand drawn animation in this film, which comprises 170,000 separate images - the most in any Miyazaki film. 
The Secret World Of Arrietty
Year Of Release: 2010
Directed By: Hiromasa Yonebayashi
English Voice Cast: Bridgit Mendler, Will Arnett, Carol Burnett and Amy Poehler
Arrietty is based on Mary Norton's classic story, The Borrowers. This animated feature is a gorgeous if much simpler (and shorter) story and, therefore, a good film to pick if you want to introduce younger children to the wonders of Studio Ghibli.
The Tale Of The Princess Kaguya
Year Of Release: 2013
Directed By: Isao Takahata
English Voice Cast: Chloë Grace Moretz, James Caan, Mary Steenburgen, Lucy Liu, Beau Bridges, James Marsden and Oliver Platt
The Tale Of The Princess Kaguya is based on a 10th-century Japanese folktale, Taketori Monogatari. The film tells the story of a tiny girl who is found in a shining stalk of bamboo. We follow this gorgeous otherworldly princess as she travels from the countryside to the grand capital city, where she encounters five noble suitors. 
The Tale Of The Princess Kaguya took director, Isao Takahata, eight years to make. The film features absolutely stunning animation and was nominated for an Oscar (it lost out to Big Hero 6). It should be noted, however, that this film's running time and story (particularly its heartbreaking conclusion) may not win over younger audiences. 
When Marnie Was There
Year Of Release: 2014
Directed By: Hiromasa Yonebayashi
English Voice Cast: Ava Acres, Kathy Bates, Ellen Burstyn and Geena Davis
When Marnie Was There is a visually stunning, poignant story about one girl's struggle to find her place in the world. When she meets the mysterious Marnie, the two form a strong bond. However, all is not what it at first appears.
What Is Your Favourite Studio Ghibli Movie?
These ten Studio Ghibli movies form the perfect introduction to Japan's legendary animation studio. There are, of course, many more to explore.
What is your favourite? Do let me know - feel free to leave me a comment in the box below!
Meanwhile, the future for Studio Ghilbi, following Hayao Miyazaki's retirement, is unclear. However, the influence of Studio Ghibli lives on and continues to inspire animators and filmmakers around the world.