500 Days Of Film Explores Ten Classic Family Movies...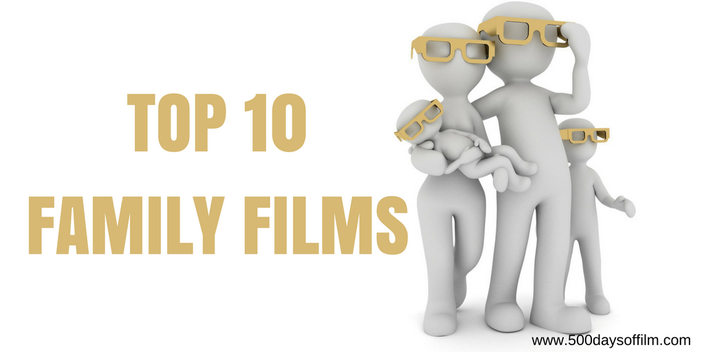 If I am ever at a loose end with the kids, or find that the weather has let us down (again), two magical words always save the day: movie afternoon.
There really isn't anything better than shutting the world away and snuggling down to enjoy a classic film. The only question is, what film should you choose - what will appeal to everyone?
To help you with this cinematic conundrum, I have made a list of 10 classic family films... 
10 Classic Movies To Please All The Family
10. The Gold Rush
Charles Chaplin's 1925 film, The Gold Rush, is the perfect blend of tragedy and comedy. It is also the movie for which the director most wished to be remembered.
A tale inspired by the prospectors of the Klondyke Gold Rush of 1896-98, The Gold Rush is full of laugh out loud comedy scenes - including the famous dance of the rolls. (I also love City Lights if you are up for a Chaplin double bill!) 
9. The Wizard Of Oz
Based on the novel by L. Frank Baum, director Victor Fleming's The Wizard Of Oz is one of cinema's most beloved fairy tales. Filled to the brim with wonderful songs, it made a movie icon of Judy Garland.  
There is just so much to enjoy in The Wizard Of Oz. The performances are perfect, the set design is wonderful and it always surprises me just how funny this film is - a true timeless classic. 
8. Star Wars: A New Hope
Can you believe that George Lucas' 1977 film, Star Wars, was expected to be a flop? Today, this seems utterly inconceivable. What's not to love about this sci fi western adventure? Lucas created an epic space odyssey - a franchise beloved by generations and one showing no signs of slowing down. 
7. My Neighbour Totoro
Of all the wonderful films from Japanese animation film studio, Studio Ghibli, Hayao Miyazaki's My Neighbour Totoro will always have a special place in my heart. 
While their mother is recuperating in hospital, two girls, Mei and Satsuki, move with their father to a house in the country. Exploring their new home, the girls encounter a host of magical creatures.
My Neighbour Totoro is a film full of the wonder of innocence - beware, young or old, it will capture your heart. 
6. Mary Poppins
Disney's announcement that it was going to revisit Mary Poppins caused quite the 
outcry. How can you improve on perfection? The reaction to this film was unsurprising given how much love there is in the world for Robert Stevenson's 1964 musical.
Mary Poppins is one of Disney's most popular films - featuring a glorious score and groundbreaking technical advances that combine live action with animation. Practically perfect in every way. 
5. Toy Story
In 1995, Pixar released a film that would change animation forever: Toy Story. Outwardly answering the question of what toys do while their owners are away, Toy Story explores far deeper themes of friendship and the reality of growing up.
Any one of the three Toy Story movies (forming one of the best film trilogies of all time) could have made it onto this list. However, I do love the innocent fun of the original - plus it doesn't ruin me emotionally.
4. Inside Out
I always look forward to the next Pixar animation. Let's face it, they rarely let us down. However, Inside Out took me by surprise. I just didn't expect a film with such wonderful and poignant depth. You can watch for the simple entertainment of Joy's adventures or you can use this film to understand complex emotions and the necessity of sadness. Either way, Inside Out is a truly special family film. 
3. The Princess Bride
I adore Rob Reiner's The Princess Bride. Based on a novel by William Goldman, this film features a perfect ensemble cast on top form. This really is a film to suit all the family. There's romance, adventure, comedy and drama. It makes me smile from start to finish... Hello. My name is Inigo Montoya. You killed my father. Prepare to die.
2. ET
Inspired by his parent's divorce and the imaginary friends of his childhood, the concept of E.T. came into focus for director, Steven Spielberg, while he was making Close Encounters Of The Third Kind. What if one of those aliens stayed behind as an ambassador? 
From that point on, all the stars aligned. Melissa Mathison's perfect script, Spielberg's wonderful direction, John Williams' incredible score and three brilliant child performances combine to make E.T. a timeless classic. Just don't forget the tissues.
1. Raiders Of The Lost Ark
Raiders Of The Lost Ark is the perfect answer to the problem of finding all round family entertainment. It features non-stop adventure, another of those brilliant John Williams' scores and more iconic scenes than you could shake an ark at. Raiders bears many repeat viewings and every one is a joy.
What's Your Favourite Family Film?
As with every list, there were many movies that almost made it into my top ten. However, I decided to include a variety of different types of film to (hopefully) help you find the perfect way to spend a cosy afternoon with all the family.
What do you think of this list? Is your favourite here? If not, what family movie would you most recommend?
Do let me know by leaving a comment in the box below.