500 Days Of Film Reviews Family Animation, Storks, Featuring The Voices Of Andy Samberg and Katie Crown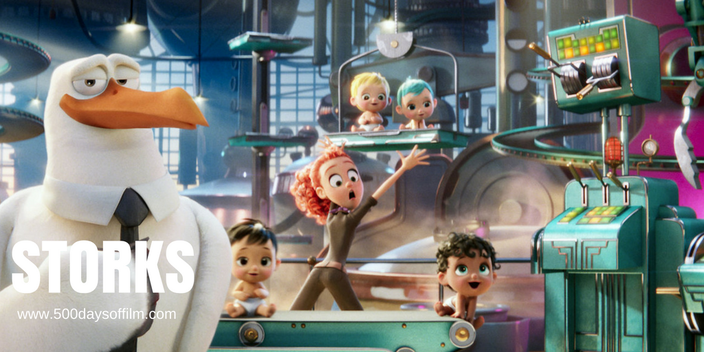 Storks used to deliver babies. However, after a transportation mishap, they got out of the baby business and started delivering packages for a global retail giant. 
Junior (Andy Samberg), the company's top delivery stork, is about to be promoted when he and Tulip (Katie Crown), the only human on Stork Mountain, accidentally activate the Baby Making Machine, producing an adorable baby girl.
Desperate to deliver the little bundle before the boss gets wise, Junior and Tulip race to make their first-ever baby drop.
Is It Any Good?
Storks is the new family animation from directors Nicholas Stoller and Doug Sweetland. It is a strangely uneven film with as many laugh out loud scenes as oddly tumbleweed moments. 
The movie's story is interesting - offering the potential for crazy chases, slapstick fun and oodles of cute. In addition, the idea that storks have evolved from making families whole via delivering babies to making families feel whole through delivering stuff feels all too relevant for our time.
Indeed, the story thread involving a boy's desperate desire for a sibling is very sweet - especially as it helps to realign his family's priorities (parents voiced by Ty Burrell and Jennifer Aniston).   
While Storks features some undeniably funny moments, it also misses the mark in many areas. 
The film often feels disjointed and bizarre. Humour aimed at adults fails to land and many characters are intensely irritating (I'm thinking particularly of Stephen Kramer Glickman's Pigeon Toady here). Then, when the time came for the film's finale of 'feels', I just didn't connect emotionally.
For all that, Storks isn't a terrible family movie. It will certainly entertain the kids on a rainy afternoon. 
However, films such as Inside Out, Song Of The Sea, When Marnie Was Here and Kubo And The Two Strings have really raised the animation bar and Storks just cannot compete in their league.
Random Observations
Have you seen Storks?
If so, what did you think of this animation? Let me know! Leave me a comment in the box below.