500 Days Of Film Reviews Deepwater Horizon Starring Mark Wahlberg And Kurt Russell.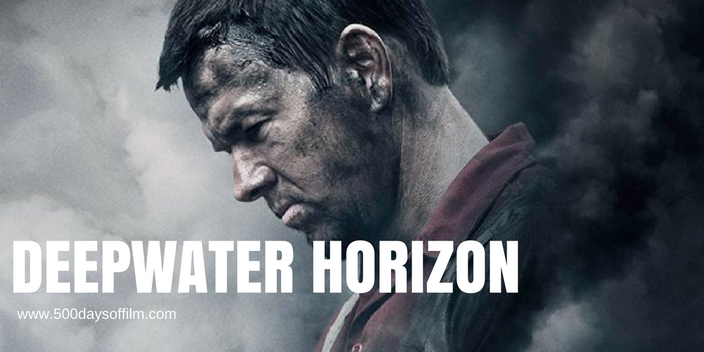 On 20th April 2010, one of the world's largest man-made disasters occurred on an oil rig in the Gulf of Mexico. The rig, called Deepwater Horizon, exploded, setting off a massive fireball and killing eleven men.
In director, Peter Berg's, film about the events of that day, chief electronics technician, Mike Williams (Mark Wahlberg), and his crew mates face a truly desperate battle for survival. 
Is It Any Good?
Deepwater Horizon, is stunning, sobering and deeply affecting. This is a film that deserves to be seen on the biggest screen possible. 
Peter Berg's movie features many of the tropes familiar to the disaster movie genre. He gives us someone to care about in Wahlberg's Mike Williams. He then imparts some useful information that will come in handy later ("my Daddy tames the dinosaurs").
Meanwhile, he introduces the bad guy (John Malkovich) who will prize money over humanity. And, finally, he throws in a series of bad omens - enough to make you want to scream, get off that oil rig!
In some disaster movies, these tropes can feel unnecessarily heavy handed. However, Deepwater Horizon handles them perfectly. I was gripped from the start of this incredibly tense and tragic story. 
Mark Wahlberg gives (another) powerful performance in Deepwater Horizon. He conveys Williams' easygoing charm and winning humour - really making us care about his fate. Williams went through unimaginable trauma that day and his heroic actions saved the lives of many.
However, he is always human. By the end of the movie - when Williams has gone from rescuer to survivor - the nightmare of what he has experienced hits home. Wahlberg's depiction of this moment moved me to tears.
Meanwhile, Kurt Russell is superb as oil rig manager, "Mr Jimmy" Harrell. He brings weight and gravitas to this important role - conveying the seriousness of the harrowing situation and the horrific nature of the injuries suffered by the oil rig workers.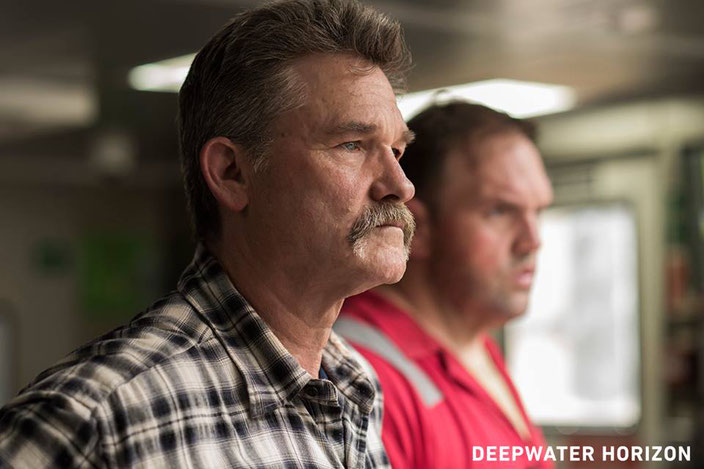 Instead of relying on CGI, Peter Berg decided to recreate Deepwater Horizon (built 85 percent to scale). This not only gives his movie a feeling of authenticity but also a sense of physicality and heft.
As Williams and his colleagues run to escape the fire, oil and flying debris, we feel every tremor, flinch after every explosion. It is hard to imagine how anyone survived.
While Deepwater Horizon feels akin to movies in the disaster genre, there is also a significant difference. The difference is that Deepwater Horizon is tragically and unbearably true. 
I left the cinema shocked and stunned by Peter Berg's powerful film.
Random Observations
Mike Williams has spoken about his battle with post-traumatic stress and survivor's guilt following the disaster. In an interview with the Mirror, he recalls that "At the moment I jumped from the rig I went from a rescuer to a survivor. I thought, 'I have to make it home to see my wife and daughter again'. But when I got back, for the first two years I couldn't leave my house."
Williams is now in a much better place, having finally accepted physical and psychological help (he was even refusing painkillers).
Williams' desire to bring the human story back to the forefront of this catastrophe was the reason why he agreed to work on Peter Berg's movie.
In an interview with NPR, Berg explains that BP was none too happy with his film: "not only were they not a big advocate or very supportive, but they actually became a very effective disruptor. And we couldn't get access to many of the things that we wanted to. We couldn't get access to the boats, to some of the helicopters, to some of the men and women that we wanted to speak to.
"But the biggest thing we couldn't get access to which is what we wanted the most was an oil rig." 
Berg's oil rig set was built in a parking lot of an abandoned Six Flags amusement park just outside of New Orleans. He explains that the set was built approximately 85 feet in the air, was about the size of "one and a half football fields" and underneath it was a five-acre water tank that could be set on fire.
John Malkovich plays BP Don Vidrine in Deepwater Horizon. Malkovich is always good value, however, here he seems to chew the scenery while affecting an extremely bizarre and distracting accent.
Have you seen Deepwater Horizon?
If you have, what did you think of this movie? I would love to know - leave me a comment in the box below!