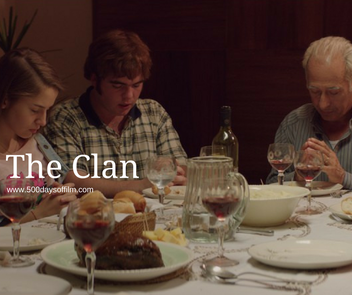 500 Days Of Film Reviews True-Life Crime Drama, The Clan, Starring Guillermo Francella And Peter Lanzani
In early 1980s Argentina, a seemingly normal family, in the traditional neighborhood of San Isidro, hides a terrible secret.
They make a living out of kidnap and murder.
All are, to a greater or lesser extent, complicit in these crimes. Father, Arquímedes Puccio (Guillermo Francella), meticulously plans the operations. Meanwhile, his eldest son, Alejandro (Peter Lanzani), helps by identifying possible kidnapping candidates.
However, as Argentina moves from a military dictatorship towards democracy, the immunity granted to Arquímedes begins to fade - putting his entire family at risk.  
Is It Any Good?
Written and directed by Pablo Trapero, The Clan is a tense and disturbing film based on the horrific true story of the Puccio family. 
While I know about Argentina's 'disappeared' (those people kidnapped by the country's government during the military dictatorship that took place between 1976-1983), I was not aware of what the Puccios did or what eventually happened to the family.
Trapero's film starts with a raid and the end of the Puccio reign of terror. It then moves back in time and begins to paint an extremely unsettling picture. 
Here is a family living an outwardly normal life - cooking, homework, chores. However, all the while, terrified kidnap victims are kept in their bathroom and basement.
Over the hubbub of family life, the Puccios can hear their screams.   
The Clan is both the story of a horrendously dysfunctional family and also an exploration of the complicity by which the military dictatorship in Argentina operated. Kidnapping was big business and men like Arquímedes, scornful of the mere concept of democracy, were unwilling to give up their trade. 
Guillermo Francella is truly chilling as Arquímedes. His cold blue eyes oversee all and he only becomes more terrifying as things start to deteriorate. Powerfully played by Peter Lanzani, Alejandro is controlled by his father. He is unable to stand against him - even in his choice of footwear. 
Trapero places us in the centre of Puccio family life. We get to know them and - with the exception of Arquímedes - start to feel some (albeit conflicted) sympathy for their situation. We know what is about to happen and, as the film progresses, the suspense becomes almost unbearable. 
However, even after they are caught, The Clan has more character revelations up its sleeve. I was on the edge of my seat until the end.  
Random Observations
Pablo Trapero also directed White Elephant, Lion's Den and Carancho.
The Clan was Argentina's submission for the Best Foreign Language Academy Award.
Have you seen The Clan?
If you have, what did you think of this film? Let me know! You can leave me a comment in the box below. Alternatively, come over and say hi on Twitter!