500 Days Of Film Reviews Romantic Comedy, Bridget Jones's Baby, Starring Renée Zellweger, Colin Firth and Patrick Dempsey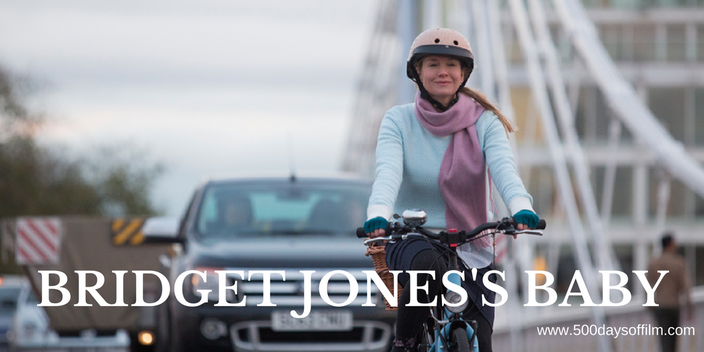 Five years after breaking up with Mark Darcy (Colin Firth), Bridget Jones' (Renée Zellweger) "happily ever after" hasn't quite gone according to plan. Forty-something and single again, she decides to focus on her job and her friends - both old and new.
However, Bridget's love life takes an unexpected turn when she meets a dashing American named Jack (Patrick Dempsey) - a man who seems to be everything Mr Darcy is not. Nonetheless, and despite their history, she is far from over Mark. 
Things get even more complicated when Bridget becomes pregnant. Just who is the father - Jack or Mark?
Is It Any Good?
Nostalgia is big business in the film industry. Recent months have seen a seemingly unstoppable flood of sequels and reboots - Dad's Army, Ghostbusters, Independence Day: Resurgence, Absolutely Fabulous: The Movie and Ben Hur to name but few.
Many of these films have struggled to meet our expectations. As a result, news of a third Bridget Jones' film was met with (understandable) trepidation. 15 years on from the first film (Bridget Jones's Diary, 2001) and 12 years since its sequel (Bridget Jones: The Edge of Reason, 2004) do we really need another Bridget Jones movie?
The answer is yes. We absolutely do need Bridget and it is wonderful to see her again.
If you loved Helen Fielding's books and the previous two films, you will love Bridget Jones's Baby. In fact, with the return of original director, Sharon Maguire, this movie is far more enjoyable than the sequel.
Of course, the plot of Bridget Jones's Baby is nothing that we haven't seen before. However, the mix of observational humour and slapstick comedy - alongside our genuine affection for Bridget - elevates this film and makes it a whole lot of laugh out loud, escapist fun.
I challenge anyone to maintain a straight face while watching Bridget lip sync to House Of Pain's Jump Around. Anyone. Meanwhile, the film's pregnant woman versus revolving door scene is an instant comedy classic.
It is wonderful to see the return of Bridget's friends and family. Sally Phillips (Shazzer), Shirley Henderson (Jude) and James Callis (Tom) are wonderful. Meanwhile, it is great to see Bridget's parents again (brilliantly portrayed by Gemma Jones and Jim Broadbent). I just wish that these characters had more screen time.
Bridget Jones's Baby also introduces several new characters. I loved Sarah Solemani as Bridget's TV presenter and friend, Miranda. 
However, it is Emma Thompson's performance as Dr Rawlings that truly steals the show. Thompson co-wrote the script and has the film's best lines - delivering them with exquisite comic timing.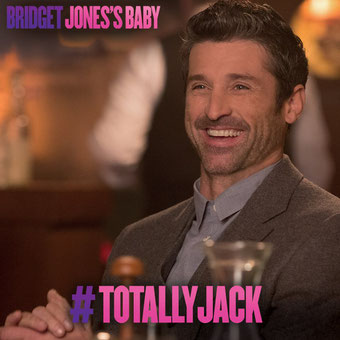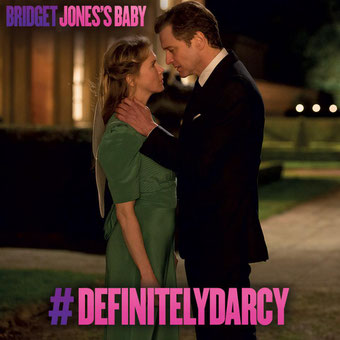 When Hugh Grant walked away from Bridget Jones' third cinematic outing (amid rumours of unhappiness with the original - pre-Emma Thompson - script), Sharon Maguire had to find another suitor for Bridget.
Patrick Dempsey is effortlessly charming as Jack. Unlike the caddish Cleaver, he genuinely cares for Bridget. Indeed, the film carefully avoids any obvious choice between Jack and Mark - they are both pretty good guys. 
Of course, we are meant to feel the emotional weight of the history between Bridget and Mark. Colin Firth returns with a range of exasperated and mortified facial expressions and is rewarded with the best heartstring-tugging lines. 
I thoroughly enjoyed Bridget Jones's Baby. It is not flawless. The film struggles to reignite the chemistry between Mark and Bridget, some of its jokes feel a little dated (particularly the gangnam style and Hitler's cat gags) and the movie does play it rather safe. 
However, it feels churlish to pick holes in such an entertaining film that delivers pure escapist fun. Welcome back Bridget, it is good to see you.
Random Observations
Bridget Jones's Baby is not based on Helen Fielding's last Bridget Jones novel (Bridget Jones: Mad About The Boy). The author has published a book to accompany this movie called Bridget Jones's Baby: The Diaries. 
After struggling to find its audience in the US, Bridget Jones's Baby has been extremely well received in the UK. The film made $11m during its opening weekend. This is the best opening weekend for Working Title, the studio behind the movie.
A fourth cinematic outing for Bridget now looks more likely than ever.
Have you seen Bridget Jones's Baby? If you have, what did you think of this movie?
Let me know by leaving top comment in box below!