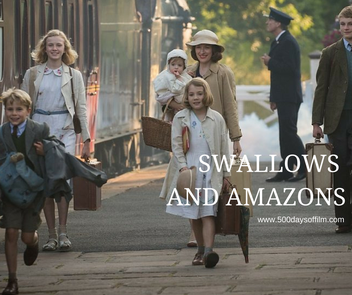 500 Days Of Film Reviews Swallows And Amazons Starring Rafe Spall And Kelly MacDonald
Escaping London for their summer holiday, John, Susan, Tatty and Roger Walker are hungry for adventure.
They dream of sailing on their own to an island in the middle of a vast lake and setting up camp.
The children can hardly believe their luck when their mother (Kelly MacDonald) gives them permission to set sail. 
However, on arrival, they discover that they may not be alone. Just who is the mysterious Captain Flint (Rafe Spall) and who are those fearsome Amazons? 
So begins a battle for the ownership of the island - one that will teach the children the value of family, friendship and bravery.
Is It Any Good?
Swallows And Amazons is the latest adaptation of Arthur Ransome's 1930 novel about the innocent joy and adventure of childhood.
Director, Philippa Lowthorpe's, movie has big shoes to fill. Over forty years on, its 1974 predecessor remains a much loved classic. However, this 2016 version of Swallows And Amazons feels welcome - particularly as children spend less time outdoors, and more time behind screens. 
For 2016's children, the freedom on display in Swallows And Amazons must feel like a different, fantasy world. What no life jackets? No sunscreen? Allowing kids to disappear for days (without mobile phones) with knives and matches? That is pretty unheard of today.  
Therefore, a film about the excitement of playing outdoors, making dens and embarking on imaginative adventures feels both refreshing and inspiring.
In an attempt to stamp their own mark on the story, Lowthorpe and writer Andrea Gibb have introduced a spy plot into their Swallows And Amazons.
Drawing on the life of Arthur Ransome himself (the author was a spy), the film introduces Russian secret agents into the narrative (led by the brooding Andrew Scott), determined to track down Rafe Spall's grumpy Captain Flint.
While Spall gives a scene-stealing and charismatic performance, this sub-plot dilutes the film's focus. It feels as if the filmmakers didn't have the confidence that the children's adventures on their own would be exciting or engaging enough. 
As a result, while 2016's Swallows And Amazons is enjoyable, authentic and stunning to look at, the film doesn't completely satisfy overall and is unlikely to supplant the 1974 original.
Random Observations
Have you seen Swallows And Amazons?
If so, what did you think of this movie? 
Do let me know by leaving me a comment in the box below!