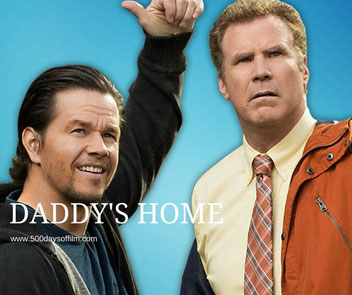 500 Days Of Film Reviews Comedy, Daddy's Home, Starring Will Ferrell And Mark Wahlberg
Brad Whitaker (Will Ferrell) just wants his step-children to love him.
He tries everything to win Megan and Dylan's affection and just cannot believe his good fortune when this devotion begins to pay off.
However, before he has the chance to enjoy his new Daddy status, Megan and Dylan's biological father, Dusty (Mark Wahlberg) returns with one goal in mind - to win back his family at any cost.
Is It Any Good?
Sadly, Daddy's Home is a bit of a mess. This is a movie that just doesn't know what it wants to be - veering uncomfortably between 12-rated family slapstick and more edgy, adult-focused humour. 
While Sean Anders' movie starts well and features some early laugh out loud scenes, Daddy's Home soon becomes sluggish and tiresome. Quite simply, there just isn't enough of a story to sustain a feature length film. 
However, despite its flaws, Daddy's Home is not without some redeeming qualities. 
Wahlberg and Ferrell give engaging performances and have great onscreen chemistry. It is just a shame that they are not working with higher quality material (you feel they could do this in their sleep) because there certainly is potential in this pairing.
In addition, the movie has an undeniably good heart - something borne out by its rather sweet and funny conclusion. 
Random Observations
Have you seen Daddy's Home? 
If so, what did you think of this movie? Let me know - just leave me a comment in the box below.