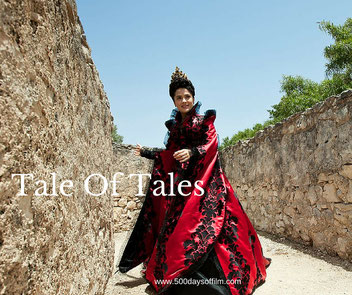 500 Days Of Film Reviews Tale Of Tales Starring Salma Hayek and Toby Jones
Tale Of Tales is a dark and twisty re-telling of three fantastical fairy tales.
The first tale focuses on the Queen of Longtrellis (superbly portrayed by Salma Hayek) who risks the life of her husband (John C. Reilly) in the desperate hope of giving birth to a child.
The next tale looks at the King of Highhills (the ever marvelous Toby Jones) who ignores his daughter's dreams in favour of his new found love - a flea.
Tale Of Tales' final story follows the fortunes of a haggard crone (Hayley Carmichael) whose lovely singing voice draws the attention of the lustful King of Strongcliff (Vincent Cassel).
Is It Any Good?
Movies like this don't come around that often - that is for sure. 
Tale Of Tales is a stunning film. Every scene looks incredibly beautiful - from the cinematography to the costume design - and every performance is superb. 
However, this is no children's fairy tale. Garrone's film is dark, violent and unsettling. He is unafraid to portray the strangest aspects of these stories - inspired by the tales of 17th Century Italian poet and courtier Giambattista Basile.
As a result, we watch Salma Hayek eating the heart of a sea monster, witness Toby Jones fall in love with a flea and see Vincent Cassel's King sleep his way around his kingdom.
On paper, these stories may seem off-putting or even ridiculous. However, thanks to the committed performances by everyone involved, Tale Of Tales is a gripping and hugely entertaining film.
In an interview with The Guardian, Garrone explains that he wanted to make a movie "that was externally theatrical but internally very real". The tales in this film may originate from the 17th Century but their messages remain relevant today.
I'll admit, at times, I found myself struggling to make sense of what I was seeing. What message should I take from these tales? However, Garrone encourages his audience not to try to understand his film but to feel it, as you would a painting.
This makes Tale Of Tales sound like hard work. It is not. I was gripped by the stories and endlessly impressed by the performances. (So much so, that I didn't even realise a spectacular thunderstorm was raging outside!).
Tale Of Tales is a dark and twisty visual feast and a film I would wholeheartedly recommend.
Random Observations
Tale Of Tales is so gorgeous to look at. I was not surprised to find that Garonne began his career as a painter.
Have you seen Tale Of Tales?
If so what did you make of this dark fairy tale? Did you love it? Hate it?
Whatever the case, let me know by leaving me a comment in the section below!