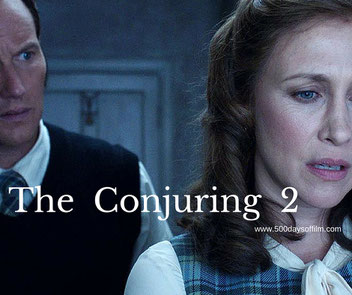 500 Days Of Film Reviews The Conjuring 2 - Reuniting Patrick Wilson and Vera Farmiga As Demonologists, Ed And Lorraine Warren
In one of their most terrifying investigations, Ed (Patrick Wilson) and Lorraine (Vera Farmiga) Warren travel to North London to help terrified single mother, Peggy Hodgson (Frances O'Connor).
Hodgson is struggling to raise her four children in a house plagued by malicious spirits. 
However, the Warrens are wary of this case. Their work has come under intense media scrutiny following their investigation into the Lutz house in Amityville.
As a result, before they can help the Hodges, they have to be sure that the haunting is real. 
Is It Any Good?
As a longtime horror fan, I tend to greet a new horror film with a mixture of interest and trepidation. My nervousness lies not in the fear of being scared by a movie - rather in not being scared.
As a result, I was both excited and relieved when early buzz about James Wan's new movie (the sequel to his 2013 original, The Conjuring) seemed to suggest that it was genuinely scary and unsettling.
Unfortunately, while this film is enjoyable, well directed and while I do like spending time with Patrick Wilson and Vera Farmiga's Ed and Lorraine Warren, The Conjuring 2 is neither scary nor particularly unsettling. 
And, because of this, I feel disappointed.
However, I do accept that, as a horror fan, I am becoming harder and harder to scare. Perhaps I have become desensitized. 
The Conjuring 2 is not a bad horror film - it didn't bore me and I did care about the Warrens and the possessed young girl, Janet (Madison Wolfe).
I have seen much worse believe me. I just would have loved to have seen better.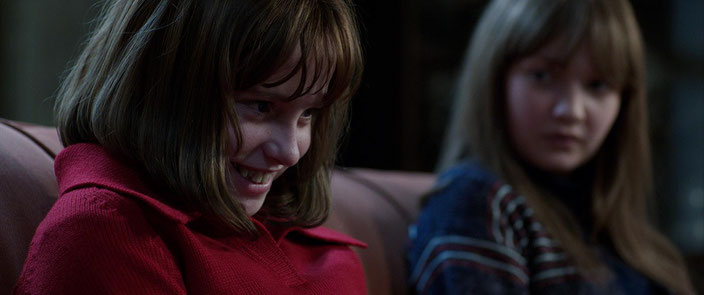 James Wan's love of the horror genre is plain to see. Indeed, The Conjuring 2 is like a veritable pick 'n' mix of horror references. 
Obviously we have the Amityville haunting case that Ed and Lorraine Warren investigated in real life. In addition, Wan nods to The Omen, The Woman In Black, Poltergeist, The Shining and, most distinctly, The Exorcist.
With all of these nods, it's no wonder the film feels slightly dizzy with horror connections.
Don't get me wrong, I love a good cinematic reference, but there is just too much of it in The Conjuring 2 and not enough scares by far.  
Random Observations
One character in The Conjuring 2 looks, at first glance, to have been created via stop motion or CGI effects. However, The Crooked Man is, in fact, played by the very real Javier Botet.
If you want to find out more about the real Enfield Haunting, I would recommend this interesting article by Will Storr: The Conjuring 2: what really happened during the Enfield Haunting? 
In this investigation, Ed and Lorraine Warren have to cross the pond to London - and boy is this geographical move rammed home. To the strains of The Clash song London Calling, we see one London cliché after another. It all felt a bit ridiculous after a while.
I did enjoy the attention to period detail in The Conjuring 2. 
James Wan's original The Conjuring was the largest opening ever for an original horror movie. The film went on to make more than $319m worldwide and remains the second highest grossing original horror movie of all time (behind The Exorcist).
Click here for 500 Days Of Film's The Conjuring review. 
Have you seen The Conjuring 2? 
If so, what did you think of this movie? Did it scare you? If not, do you think that is a fundamental flaw?
Let me know by leaving me a comment in the box below!