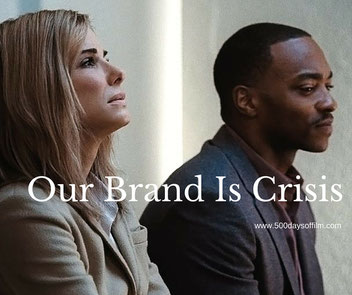 500 Days Of Film Reviews Our Brand Is Crisis Starring Sanda Bullock
Bolivian presidential candidate, Castillo (Joaquim de Almeida), is failing badly in the polls.
He enlists an elite American management team, led by the damaged but brilliant strategist Jane Bodine (Sandra Bullock). 
In self-imposed retirement following a scandal that earned her the nickname Calamity Jane, she has been coaxed back into the game for the chance to beat her professional nemesis, the loathsome Pat Candy (Billy Bob Thornton), now coaching the opposition.
But as Candy zeroes in on every vulnerability – both on and off the campaign trail – Jane is plunged into a personal crisis as intense as the one her team exploits nationally to boost their numbers. 
Is It Any Good?
After its release last year, Our Brand Is Crisis struggled to find an audience. 
On paper, it is hard to understand why David Gordon Green's film pretty much sank without trace. After all, it boasts an impressive cast, an intriguing plot and a screenplay from Peter Straughan - the writer behind the Tinker Tailor Soldier Spy movie screenplay.
While not without flaws, I found Our Brand Is Crisis to be an entertaining, amusing and interesting film featuring another standout performance from Sandra Bullock.
So, why no love?
Perhaps the lack of love for Our Brand Is Crisis is down to the marketing of this film. The movie's title certainly gives little away (and is even a little confusing). In addition, some film critics have suggested a lack of interest in the film's geographical focus and political subject matter.
However, I would recommend bucking this trend and giving Our Brand Is Crisis a watch. Sandra Bullock's performance alone is worth your time. She is wonderfully unhinged as Jane and yet pulls some brilliant political tricks out of her cavernous across-the-shoulder bag.
I really enjoyed her scenes with Anthony Mackie's Ben. Mackie is an extremely watchable and engaging screen presence. His character also provides much needed respite from Billy Bob Thornton's incredibly sleazy Pat Candy.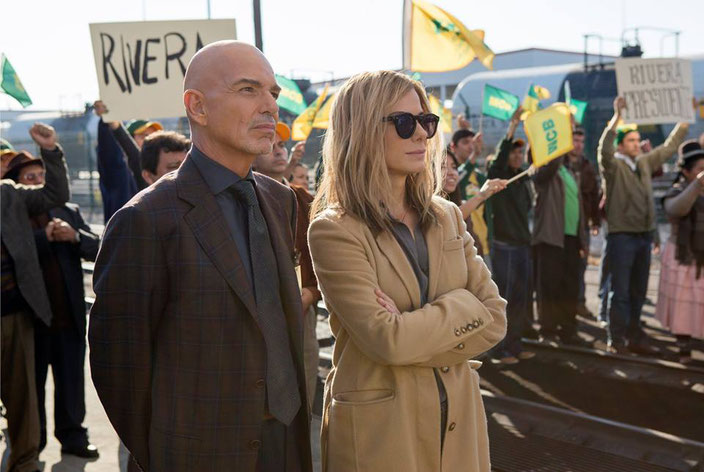 While all of the elements are in place for a successful movie, I did feel that something was missing - and that 'something' kept Our Brand Is Crisis from being a great film experience. 
Perhaps it was because I have seen Jane's political tricks before. Perhaps it was down to the lack of tension. Perhaps it was because the ending felt a little too neatly wrapped.
Whatever the case, I would still recommend Our Brand Is Crisis if you fancy a light and amusing political film with a winning performance from Sandra Bullock.  
Random Observations
Our Brand Is Crisis was partly inspired by Rachel Boynton's documentary (also called Our Brand Is Crisis), which outlined the American political campaign marketing tactics employed in the real-life 2002 Bolivian presidential election.
Sandra Bullock was an executive producer of Our Brand Is Crisis and George Clooney is one of the producers of the film.
Have you seen Our Brand Is Crisis? 
If you have, do let me know what you thought of this movie. You can leave a comment in the box below!