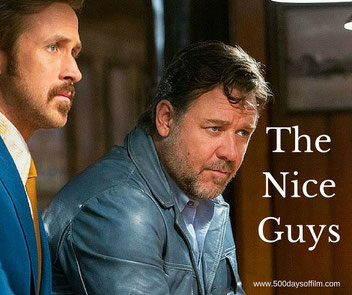 500 Days Of Film Reviews The Nice Guys Starring Russell Crowe And Ryan Gosling
In 1970s Los Angeles, down-on-his-luck private eye Holland March (Ryan Gosling) and hired enforcer Jackson Healy (Russell Crowe) realise that they must work together to solve the case of a missing girl and the seemingly unrelated death of a porn star. 
During their unconventional investigation, they uncover a shocking conspiracy that reaches up to the highest circles of power.
Is It Any Good?
The best way to enjoy director Shane Black (Iron Man 3)'s The Nice Guys is to check your brain in at the door.
Seriously, if you sit back, relax and let the crazy nonsense wash over you, you'll have a great time with this buddy-noir movie.
If, however, you were hoping for something with more depth and bite (or another Kiss Kiss Bang Bang perhaps) you might well leave the cinema a little disappointed. 
So, here's the good stuff… Russell Crowe and Ryan Gosling are extremely fun to watch in a film that just looks stunning. Both actors seem to be having a great time. And who knew that Gosling was so adept at physical comedy? 
Crowe, meanwhile, commands the screen at the beginning of the film and I found myself surprisingly engaged by his character.
Then we have Holland's daughter, Holly (Angourie Rice), who makes for a sharp and sparky screen presence. 
The gags come thick and fast and, while many of the jokes are a little heavy handed, The Nice Guys remains funny throughout. Again, you just have to give in to the slapstick silliness.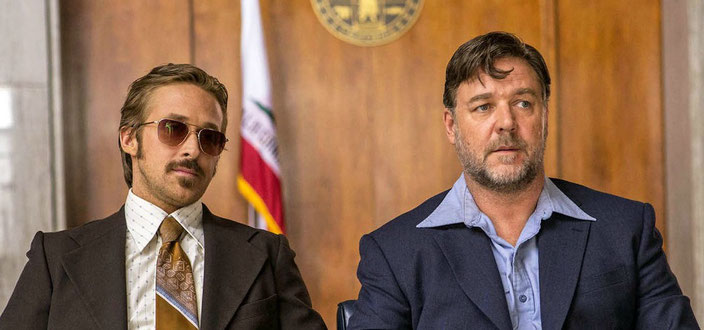 Unfortunately, I went into The Nice Guys expecting a film that the movie ultimately couldn't deliver. Yes I got laughs and (lots of) cartoon violence, but I also wanted a smarter, more impactful story.
As a result, I left The Nice Guys feeling slightly disappointed. 
I just didn't love March as much as the film wanted me to and I felt disappointed that, just as I was enjoying Healy, his character was stunted and left on screen as a brick wall with fists. 
I also found The Nice Guy's central conspiracy to be muddled and, ultimately, irrelevant. I didn't really care. 
However, this film still has much to offer. And, if you are after an
entertainingly frivolous action comedy that is gorgeous to look at and fun to watch, The Nice Guys are your men.
Random Observations
The look and style of The Nice Guys is extremely impressive. Production values are sky high and fabulous.
Have you seen The Nice Guys?
If so, what did you think about this movie. Do let me know - you can leave me a comment in the box below!