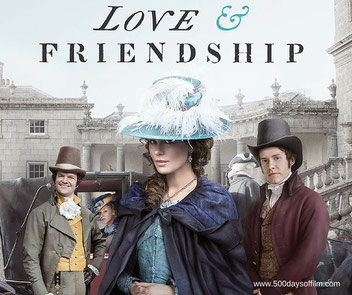 500 Days of Film Reviews Whit Stillman's Adaptation Of Jane Austen's Love & Friendship
Fleeing a scandal involving married man, Lord Manwaring, in London, beautiful widow, Lady Susan Vernon (Kate Beckinsale) finds refuge at Churchill -  her brother-in-law's estate.
Whilst there, she decides to secure a husband for herself and her daughter, Frederica (Morfydd Clark).
Lady Susan has designs on her sister-in-law's brother, the handsome and eligible Reginald DeCourcy (Xavier Samuel). Meanwhile, she persuades a horrified Frederica of the need to marry the wealthy but ridiculous Sir James Martin (Tom Bennett).
However, Lady Susan's plans are at risk from DeCourcy's disapproving family at Churchill and Lady Manwaring's hysteria in London. 
Can she avoid the denouement of denouements?
Is It Any Good?
Love & Friendship is an adaptation of Jane Austen's early novella, Lady Susan. Written and directed by Whit Stillman (The Last Days Of Disco), this film is an absolute joy from start to finish. 
I was laughing within seconds and didn't stop until the end credits rolled - this movie is pure, undiluted fun. Meanwhile, the script is so wonderful that I am left itching to read both the screenplay and the source novella. 
Lady Susan, the most accomplished flirt in all of England, manipulates everyone around her. Her intuition, cunning and razor sharp wit has secured her place in society and she is not about to let anyone stand in her way. 
Kate Beckinsale gives a superb performance as Lady Susan - surely a career best. She is simply fabulous and deliciously wicked.
Beckinsale is joined by an impressive supporting cast. Xavier Samuel is great as Reginald and I really enjoyed Chloë Sevigny's role as Lady Susan's friend and ally, Alicia Johnson.
However, one performance in particular stole the film. Tom Bennett's portrayal of Sir James Martin is pure comic genius. I laughed all the way through Love & Friendship but the biggest laughs always came when Bennett was on screen.
Oh, and please do not be put off if costume drama is not your thing.
I am no fan of this genre either (have never even watched Downton Abbey). Stillman has created a period film infused both with the timeless qualities of Austin and a fresh and modern spirit. 
Love & Friendship is a brilliantly funny, sharply witty film that I would urge you all to watch.
Random Observations
You may have to seek out Love & Friendship because (criminally) this film is not being screened widely. I am hoping that the buzz around this film will lead to more availability but if this does not happen make a note to catch it on DVD. This is a film that you do not want to miss.
Austen's Lady Susan novella is believed to have been written in the mid 1790s but revised up to a fair copy prepared in 1805 and finally published by her nephew, James Edward Austen-Leigh, in 1871.
Lady Susan is set in the early 1790s, which is earlier than most Austen tales.
Special mention must go to the costume designers on Love & Friendship. The dresses are all gorgeous in this film.
Have you seen Love & Friendship?
If you have,what did you think of this film? Let me know by leaving a comment in the box below!