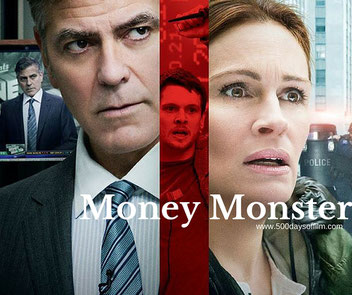 500 Days Of Film Reviews Director, Jodie Foster's, Latest Film, Money Monster, Starring Julia Roberts And George Clooney
Lee Gates (George Clooney) is an egocentric, washed up financial TV host. He delivers his investment tips in an irresponsible, careless manner - often while dancing and wearing a silly hat. 
However, Gates and his producer Patty (Julia Roberts) find themselves in an extreme situation when an irate investor who has lost everything (Jack O'Connell) forcefully takes over their studio. 
During a tense standoff broadcast to millions on live TV, Lee and Patty must work against the clock to unravel the mystery behind a high-tech conspiracy. 
Is It Any Good?
Money Monster is the fourth film that Jodie Foster has directed and with this latest movie she proves herself, once again, to be a highly effective and efficient filmmaker. 
I really enjoyed Money Monster. It is a tense, entertaining and thought provoking film that was also unexpectedly funny throughout.
There are four main elements in Money Monster. You have the arrogant TV host, Lee Gates - played by the extremely watchable George Clooney. Gates has to use his gift of the gab to survive. Meanwhile, the nightmarish situation forces him to consider just how lost he has become in his own life.
Then you have the aggressor, the terrorist. Superbly played by Jack O'Connell, Kyle is full of rage. He is unpredictable, he wants answers and he doesn't care if he dies getting them. 
We are used to seeing such hostage takers in movies. They're the bad guys right? Well, things are not so simple in Money Monster. Mid-way through, the film pivots and we realise that he might well be the victim.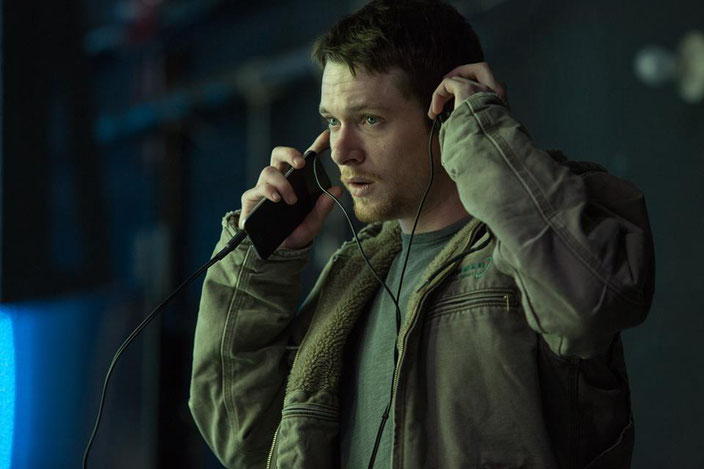 However, for me, the most interesting character in Money Monster was Patty.
She is the glue that holds everything together - the TV programme, the hostage situation and the film's narrative all rest with her. We wouldn't care about Gates without her - she humanises him. In addition, it is her reactions to Kyle's situation that allow us to sympathise with him.
Wonderful, then, that we have Julia Roberts in this role. She has such screen presence and provides the perfect blend of tension and humour. 
Despite the fact that Patty and Lee share only a few minutes of actual screen time, they are connected by technology. She is always in his ear, he is always reacting to her voice. This creates an even more intimate relationship than if they had both been tied to the bomb.
That Clooney and Roberts are having a blast together is easy to see. While there is (refreshingly) no hint of romance, their on-screen chemistry is palpable.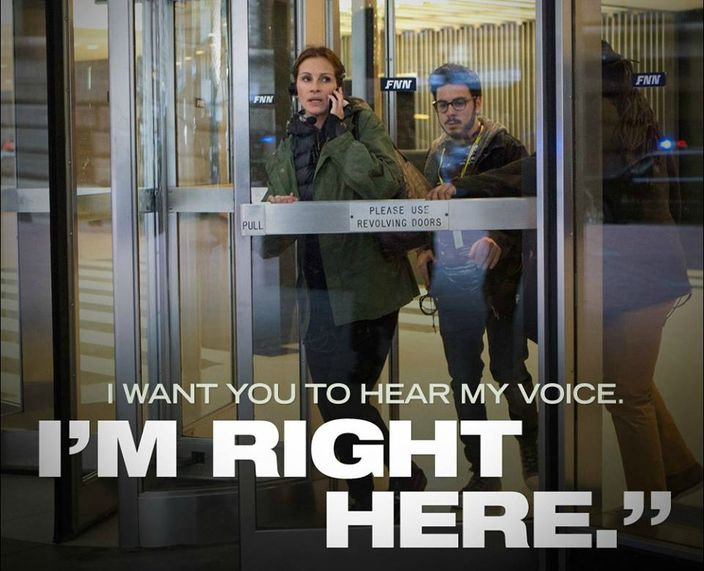 Money Monster is, of course, driven by the mystery behind a financial algorithm. However, for me, this was the least interesting part of the film and its resolution pushed the limits of plausibility. 
What was more fascinating was how Foster portrays people's reactions to the situation. Crowds are drawn towards a potential catastrophe - recording highly dangerous situations on their mobile phones. People in bars and clubs pause to gape at television screens. 
These reactions allow Foster to explore our relationship with media and technology and to look at how disconnected we have become - something I found pretty thought provoking.
Random Observations
Jodie Foster began acting when she was just three years old. She received her first Oscar nomination when she was 12 for Taxi Driver.
More Clooney and Roberts on the big or (I'm not fussy) small screen please.
Have you seen Money Monster? 
If you have, what did you think of this film? Do let me know by leaving a comment in the box below!