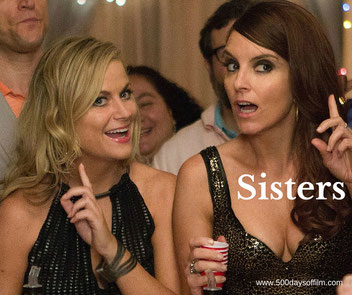 500 Days Of Film Reviews The Hilarious Comedy, Sisters, Starring Amy Poehler And Tina Fey
Sisters, Maura (Amy Poehler) and Kate Ellis (Tina Fey), are summoned back to their childhood home in order to clean out their bedrooms before their parents (Dianne Wiest and James Brolin) sell the house and move into a retirement complex. 
Once home, both sisters feel a sense of nostalgia and a desire to recapture their glory days.
They decide to throw one final high-school-style party for their classmates. What could possibly go wrong?
Is It Any Good?
Sisters is the new comedy from Pitch Perfect (a film I love) director, Jason Moore. Paula Pell (Saturday Night Live, 30 Rock) wrote the script, while Tina Fey and Amy Poehler produced the movie.
Quite the impressive pedigree…
I watched Sisters on a Friday night after a long week. And I laughed all the way through. This film is just so much rude and raucous fun. Besides which, I could watch Tina Fey and Amy Poehler all day long.
Sisters works best when Fey and Poehler are allowed to do their thing on screen. Their chemistry is just wonderful (and absolutely hilarious) to watch. 
Fey and Poehler are supported by a fabulous cast. I loved John Leguizamo as Dave and Maya Rudolph is typically superb as Brinda. Sisters also features a great performance from WWE star, John "my safe word is keep going" Cena.
Meanwhile, Dianne Wiest and James Brolin are brilliant as Kate and Maura's parents.

I do have to admit party fatigue three quarters of the way through Sisters. At one hour 58 minutes, this is a pretty long film - particularly for a comedy. 
The party gets increasingly (ridiculously) out of hand but never feels as much fun as when we spend time with the sisters themselves. As a result, the laughs subsided somewhat as Sisters worked its way to the end.
However, it has been a long time since I have laughed so much while watching a movie. And after a hard week, it was just the fun that I needed.
Random Observations
Have you seen Sisters?
If so, did you find it as funny as I did? Whatever the case, let me know - leave me a comment in the box below!