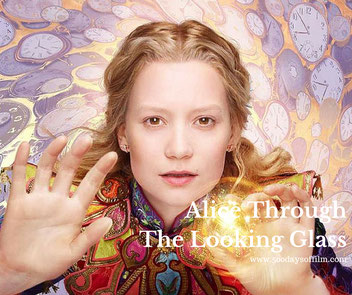 500 Days Of Film Reviews Alice Through The Looking Glass
Alice Kingsleigh (Mia Wasikowska) returns to England after successfully captaining her father's ship, The Wonder, through adventures across the Whole World.
However, despite commanding the respect of her crew, she is belittled and ridiculed once home. 
Alice also discovers that, unless she signs The Wonder over to her ex-fiance, Hamish (Leo Bill), she will lose the home that she shares with her mother, Helen (Lindsay Duncan).
She must compromise - go from captain to clerk - or be made homeless.
After rejecting her mother's pleas to conform, Alice spies a familiar butterfly - Absolem (the hugely missed Alan Rickman). He leads her to a mirror through which she tumbles into Wonderland - only to find a very dejected Mad Hatter (Johnny Depp).
Alice realises that she must travel back in time to save her friend.
Is It Any Good?
Alice Through The Looking Glass is the sequel to Tim Burton's 2010 film, Alice In Wonderland. Burton has a producer credit here - leaving the movie's direction to James Bobin (The Muppets, Muppets Most Wanted).
Bobin's film has a similar look and feel to the original and this is an entertaining enough film. However, it is also flawed and, ultimately, forgettable. 
Here's the trouble with Alice Through The Looking Glass.
This film is based on an assumption that we, the audience, care about Hatter Tarrant Hightopp as much as Alice does. Unfortunately, and this has nothing to do with Depp's recent bad press, I do not. 
As a result, Alice's actions in Wonderland seem both selfish and reckless. She puts the lives of everyone in Wonderland in jeopardy in order to mess with time and save the Hatter's family.
I just couldn't get behind her on this adventure - despite loving Mia Wasikowska's performance.   
However, something good does come out of this odd narrative decision - we get to meet the scene stealing delight that is Sacha Baron Cohen's Time. I really enjoyed his character - Cohen plays him with a perfect balance of humour, gravitas and poignancy*.
Alice Through The Looking Glass is not a bad film. It is enjoyable and entertains as Alice races from one scene to the next. 
The sets and costumes are gorgeous and imaginative and there are many amusing moments.
I also appreciated the way that Alice is portrayed as a strong, adventurous and powerful character - a great role model for young girls. She is bold and brave - unafraid to be independent. 
There is a great message in Alice Through The Looking Class about gender equality and that can only be a good thing.
Random Observations
Alice Through The Looking Glass had a disappointing opening weekend. The film, which reportedly cost $170m to make, had been predicted to make at least $60m in its first weekend. However, it took only $28.1m.
If you love Lewis Carroll's novel, Through The Looking Glass, you may need to adjust your expectations - this film bears little resemblance to the original text. Unsurprising, perhaps, since Burton's Alice In Wonderland rather cherry picked the exciting plot points from both books.
I went to a 3D screening of this film. However, if I'm honest, the 3D did not add much to my film experience (apart from a little fun flappy flappy from Absolem). 2D would be just as good. 
*I watched Alice Through The Looking Glass after listening to film critic Mark Kermode's review. Kermode said that Time's accent reminded him of legendary film director Werner Herzog (Cave Of Forgotten Dreams, Grizzly Man). I totally agree - and this made me smile all the way through!
Lovely to see the dedication to Alan Rickman during the end credits. 
Have you seen Alice Through The Looking Glass?
If you have, what did you think of this film? Do let me know by leaving me a comment in the box below!