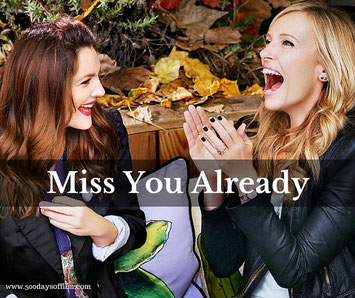 500 Days Of Film Enjoys The Power Of Female Friendship Amid Adversity In Miss You Already
Miss You Already follows two best friends, Milly (Toni Collette) and Jess (Drew Barrymore) as they negotiate the highs and lows of life.
They share everything and have been inseparable since they were young girls.
Milly and Jess have formed the strongest of bonds. However, nothing can prepare them for the day when Milly receives life changing news - she has breast cancer.
Is It Any Good?
Cancer is no stranger to celluloid. Many movies have explored aspects of this disease - I'm thinking Terms Of Endearment, 50/50 and Me, Earl And The Dying Girl here.
In addition, many films have focused on the impact of illness on friendships - the behemoth that is Beaches immediately comes to mind.
These films all include common cancer tropes: the shock of diagnosis, grueling chemotherapy, loss of hair and a reassessment of life's priorities. Catherine Hardwicke's Miss You Already is no different.
However, what sets Miss You Already apart is that this film is full of laughter. I laughed way more than I thought I would and (thankfully) cried much less.
Just watch the trailer below - check out how many times Milly and Jess laugh. Miss You Already shows how true friendship can find strength in humour - even in the darkest of times. 
The screenplay for Miss You Already was written by Morwena Banks. After losing three friends to breast cancer, she was inspired to write a cancer story with laughs. Banks wanted to show how many women rely on laughter in the face of terrible adversity. 
As a result, this film is full of truly funny moments and becomes less about disease and more about the power of friendship.
Thanks to the perfectly pitched performances of both Collette and Barrymore, Miss You Already's central friendship feels honest and utterly convincing.

The fun that both Barrymore and Collette had in playing Jess and Milly is easy to see and pretty infectious. However, amid the hilarity, Miss You Already is unafraid to look at the devastating impact of cancer.  
Collette is superb as Milly. Her character is no saint. Self-centered and egotistical, she often takes her family and friends for granted. Her diagnosis is certainly a wake up call. However, thankfully, Miss You Already doesn't turn her into a cancer saint. She is allowed to retain her feisty, larger than life personality.
Meanwhile, Jess is the heart of this film. It is through her that we understand the true Milly. I really enjoyed seeing Barrymore acting against type in this role. On the Miss You Already website, Barrymore explains that Milly "is much more vivacious and outlandish - this firecracker that you can't control! Jess is very good at being extremely direct with her. 
"Historically, in real life and in the roles I've taken on, I've been more like the exotic one and it's really nice to play someone who walks this fantastically un-boring straight line."
While I loved the friendship between Jess and Milly, Paddy Considine's performance as Jago is just as powerful. Considine is such a wonderful actor. He is not on screen much and yet his presence - whether for light relief or something more poignant - is vital.
As a result, I enjoyed Miss You Already far more than I thought I would. Yes, I did cry at the end but I came away from this film smiling.
Random Observations
Catherine Hardwicke also directed Thirteen and, most famously, Twilight. The later film landed her in the Guinness Book Of World Records for the female director with the biggest box office opening weekend. (This record has now passed to Sam Taylor-Johnson's Fifty Shades Of Grey.)
Morwena Banks is best known to kids as the voice of Mummy Pig in the hit television show, Peppa Pig.
Toni Collette shaved her head for this role.
Have you seen Miss You Already?
If so, what did you think of this movie? Let me know your thoughts in the comments section below.
I'd love to talk movies with you!