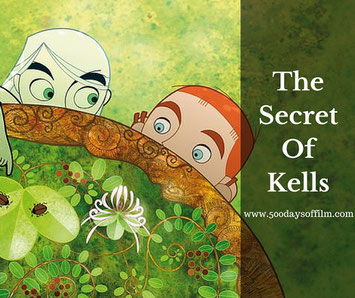 500 Days Of Film Reviews The Secret Of Kells And Finds A Stunning And Magical Animated Film
Brendan (Evan McGuire) is a young medieval monk living in an increasingly fortified Irish monastery.
He has been forbidden to leave by the stern Abbot Cellach (Brendan Gleeson) for fear of meeting an army of marauding Vikings.
He must stay on the inside and work to build ever stronger, safer walls. 
However, the arrival of a famous illuminator, carrying a magical and yet unfinished book, tempts Brendan beyond the monastery. The illuminator needs him to find special nuts from the forest that can be used to make brilliant green ink. 
As he ventures forth, Brendan meets a mysterious wolf girl called Aisling (Christen Mooney). She helps him to find the nuts and understand the world outside the monastery.
Together they are determined to show that, in the face of the murderous and destructive barbarians, true enlightenment can win over evil.
Is It Any Good?
The Secret Of Kells is a beautiful animated movie based upon an engaging, exciting story. 
It was made by Cartoon Saloon, the same studio that (later) brought us the wonderful Song Of The Sea and the two films share a director in Tomm Moore.
Having first watched Song Of The Sea, I was eager to view The Secret Of Kells. And I wasn't disappointed. I love this film. 
In a world filled with superheroes and photo realistic jungle animals, how lovely to see such stunning and imaginative animation.
Based (of course) on the medieval artwork in the real Book Of Kells, Moore was also inspired by a variety of other artists and animators. Using shadows, triptychs and staying within the realm of 2D animation, his film displays just what can be achieved from drawings as opposed to realism art.
The Secret Of Kells really takes your breath away.
Of course, gorgeous animation is not enough to keep younger audiences happy for one hour and 15 minutes. There also has to be a gripping plot full of fun, adventure and comedy.  
Thankfully, The Secret Of Kells has all of these ingredients. It also features an impressive voice cast - McGuire, Mooney and Gleeson give wonderful vocal performances -  and a truly great cat. 
I would highly recommend The Secret Of Kells. This film depicts, in the most charming and entertaining way, the importance and power of storytelling.  
Random Observations
The Secret Of Kells was nominated for a Best Animated Film Oscar in 2009, beating Studio Ghibli's (also wonderful) Ponyo.
The character of Aisling was based on Tomm Moore's little sister. Aisling means dream or vision in Gaelic.
I feel that it is worth mentioning that The Secret Of Kells is rated PG and not U. This film does contain some dark and threatening scenes. None of these scenes are long or particularly intense but a young audience might well find scary. (Click here for more information on BBFC film ratings)
If you love, as I do, the animation of both Song Of The Sea and The Secret Of Kells you can purchase a limited edition prints - some signed by Moore himself. Just visit http://www.secretofkellsstore.com/ to find out what is available.
Have you seen The Secret Of Kells?
If so what did you think about this animated film? Do let me know by leaving me a comment in the box below!