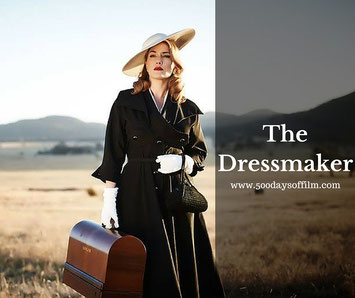 500 Days Of Film Reviews The Dressmaker, Staring Kate Winslet And Wonders, Has Revenge Ever Looked So Good?
After years working as a dressmaker in London, Milan and Paris, Murtle 'Tilly' Dunnage (Kate Winslet) returns to her tiny hometown in rural Australia.
She is desperate to remember the tragic events that led to her being banished from the town and wants to reconcile with her ailing mother, Molly (the brilliant Judy Davies). 
Armed with her sewing machine and an incredible sense of style, Tilly transforms the women of the town. In doing so, she hopes to get closer to the truth - is she really a child murderer?
However, Tilly's plans for revenge and redemption become complicated when she falls in love with the good hearted Teddy (Liam Hemsworth). 
Is It Any Good?
There is nothing better than a good old tale of revenge - and vengeance is at the heart The dressmaker from director Jocelyn Moorhouse (Proof). However, this is also a film about love, trust and the relationship between a mother and a daughter.
Kate Winslet is stunning as Tilly. She bursts onto the scene in an explosion of life, colour and yards of gorgeous fabric - much to the delight of the town's Sergeant Farrat (the wonderful, Hugo Weaving). 
Her mother, Molly, is less than happy about her return. Judy Davies is superb in this role. She is effortlessly funny and steals every scene.
I found a lot to enjoy in The Dressmaker - Tilly's revenge is extremely satisfying. This is also a funny, quirky and poignant film. Teddy and Tilly's relationship is very sweet and the story genuinely surprised me in places. 
The Dressmaker is also a gorgeous film to watch. Every scene looks gorgeous and the 1950s dresses themselves are truly stunning. They certainly make each act of revenge utterly delicious.
I would recommend The Dressmaker. Vengeance never looked so good.
Random Observations
The Dressmaker is based on the bestselling novel by Rosie Ham and was adapted for the screen by both Ham and Jocelyn Moorhouse's husband, P J Hogan (who directed Muriel's Wedding).
Have you seen The Dressmaker?
If you have, what did you think about this film? Do let me know - why not leave me a comment in the section below?