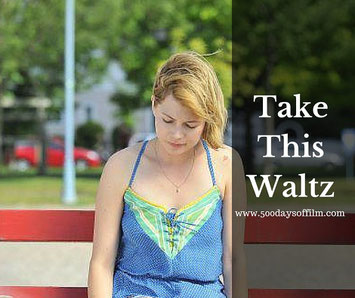 500 Days Of Film Reviews Take This Waltz - A Heartbreaking Story About A Conflicted Heart
Margo (Michelle Williams) is happily married to Lou (Seth Rogen). However, a chance meeting with new neighbour, Daniel (Luke Kirby), throws her life into disarray.
She loves her husband and their life together but she also feels that the spark and excitement has gone from their five year marriage. 
In Daniel she senses the promise of something passionate and new. Is he her last chance of fulfillment? Will he unlock and nurture the real Margo? 
Is It Any Good?
Take This Waltz was written and directed by Canadian actress and director, Sarah Polley. In 2007, after her critically acclaimed movie, Away From Her (starring Julie Christie), Variety named Polley as one of the top ten directors to watch.
Take This Waltz was released in 2011 and, following its premier at the Toronto Film Festival, attracted a surprising amount of controversy. Surprising because, at first glance, this film is a story about two people who fall in love.
However, Take This Waltz is not a romantic film in any conventional sense. It tells a far more complicated tale. And, as much as the relationship between Margo and Daniel is exciting to watch, its impact is unexpectedly sad and poignant.
Polley has welcomed the debate that her film has provoked. According to The Guardian, Polley has "heard people say: 'It made me feel so good about leaving my long-term relationship.' I've heard people say: 'How could she leave such a great guy? I hated her for that.' People feel very passionately one way or another, and they also feel certain that the film backs up their point of view. I'd hoped they'd project their own relationship history on to it, even if it's an unconscious process."
In the article, Polley explains that: "The really cool thing is that the negative reviews of the film were really smart. It was too interesting to even be sensitive about. In the past, putting a film into the world has been kind of a grind, or it feels like you're kind of promoting a product and besides the point. With this, it feels like the film is continuing into it, because people are still having conversations that are surprising."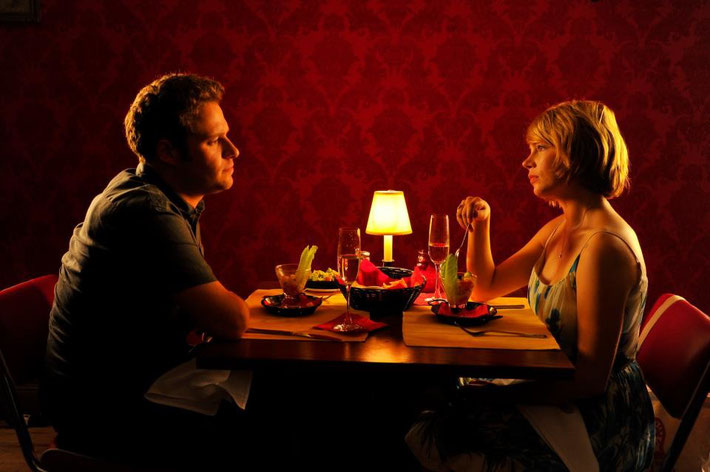 Daniel and Margo's relationship is incredibly seductive. They have such intense chemistry and there were many moments in this movie when I found myself willing the two to get together.
In the hands of a lesser writer/director, I would have found ample justification for my feelings. Margo's husband would have proved unworthy of her, cruel or unfaithful. All, of course, to make me feel comfortable with Margo's betrayal.
Polley does not let us off so easily. Margo's relationship with Lou, while less passionate and exciting, is wonderfully endearing. (Seth Rogen is brilliant - I do hope that he gets many more 'serious' roles in the future.) 
Of course, Lou's chicken-based cookbook is a metaphor - it tells us that this is a man who is more comforting than exciting. However, while their baby talk and in jokes may be wearing thin, Margo and Lou have a history and their relationship has substance.
Herein lies the conflict in Take This Waltz. Margo has to make a decision between old and new - knowing there are no guaranties that either choice will be the 'right' one.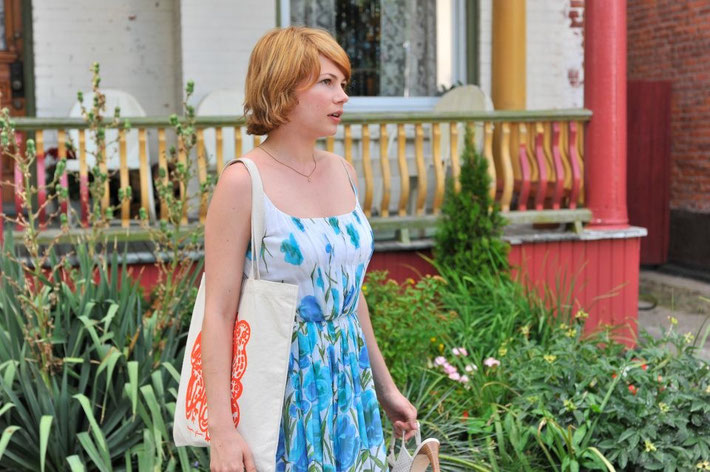 Michelle Williams is just superb in Take This Waltz. Hers is a brave and vulnerable performance. Margo is sweet and lovably quirky. And yet she is also restless and behaves (and often dresses) like a child. Margo is lost and she is a mess. Of course Daniel would be an attractive proposition for her - he offers the possibility of reinvention.
However, can we ever really change ourselves? Surely, eventually, we go back to being us (for better or worse) just as what is exciting and new inevitably becomes old and familiar.
As Polley explains in the interview: "What's sexy at the start of a relationship is how that person offers you the possibility of reinventing yourself. And then at some point you realise they probably won't. I think people get most disappointed at that moment. You can fall in love with yourself through someone else's eyes for a little while; then you see yourself as you really are again and it's sort of devastating."
The danger for Margo lies not in her choice of man, but in her inability to accept herself.
Random Observations
In my humble opinion, Michelle Williams does not get the credit that she deserves. She is a superb actor and always chooses interesting and challenging roles. For example, she is also incredible (alongside Ryan Gosling) in Blue Valentine - another film about the devastating breakdown of a marriage.
There is some rather startling scenes of nudity in this film... just saying. 
I would also recommend Sarah Polley's 2013 documentary Stories We Tell.
Julie Christie was nominated for an Oscar for her performance in Polley's Away From Her.
Have you seen Take This Waltz?
If so, what do you think of this film? I'd love to know - why not leave me a comment in the box below?