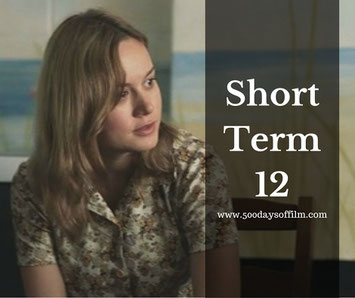 500 Days Of Film Reviews Short Term 12 Starring Brie Larson And John Gallagher Jr.
Grace (Brie Larson) is a supervisor at a group home for vulnerable children and she is good at her job.
She is firm but fair, in control but not controlling, professional yet approachable. 
However, the arrival of self-harming teen, Jayden, forces Grace to confront her own troubled past.
Grace's past refuses to stay buried no matter how hard she tries and soon threatens to destroy everything that she holds dear.
Is It Any Good?
On the face of it, Short Term 12 is remarkably low key. There is nothing flashy here. The tone aims for realism, not melodrama. The script is conversational, not preachy.
However, underneath the surface, Short Term 12 asks some weighty and deeply moving questions about how our society treats vulnerable children.
For the movie shows that it is all very well to 'lock' these children out of society - but then what? As one resident, 18 year old Marcus, asks (in a heartbreaking rap), how can he be expected to live a 'normal' life when he has no idea what a normal life is like?
The themes in Short Term 12 could have made this film feel unbearably depressing. However, director, Destin Daniel Cretton, uses a lightness of touch that manages to make a bleak situation uplifting. There is also much humour in this movie and, beyond the tragedy, there is the potential for a positive outcome.
We see life in the home through the eyes of the carers that work there and (in this case) these are engaging, warm hearted people who strive to make the best of a bad situation - all within a system that is out of their control.
Brie Larson is just superb as Grace. Her role in Short Term 12 almost matches her Oscar-winning performance in Room. Grace has issues of her own and I cared deeply about her - particularly as her life starts to unravel.     
Meanwhile, John Gallagher Jr is endearing as Grace's boyfriend and colleague, Mason. Gallagher Jr is a safe pair of hands for a role that needs to inject levity into tough situations and also give Grace a glimpse of her future - if she can only move on from her past.
I just loved Short Term 12. It is one of those films that grabs your heart and doesn't let go, It made me smile and it made me cry (several times). I really can't recommend this film highly enough.
Random Observations
Writer, director, Destin Daniel Cretton, is no stranger to the world that he has created in Short Term 12. He used his own experiences as a carer in a group home as the basis for Rami Malek's character, Nate.
On the movie's website, Cretton explains that he was "really afraid of doing something wrong and messing up these kids more than they already were. But after a month or so, I fell in love with it." He stayed on for two years.
Short Term 12 is based on a 20 minute short film that Cretton created for his Master's Degree in Film and New Media thesis project. The film went on to win the Jury Prize at Sundance in 2009. 
In the short film, the role of supervisor was male. However, for his feature film, Cretton decided to switch things around and create a new female character.   
Have you seen Short Term 12?
If so, what did you think of this movie? Do let me know by leaving a comment in the box below!