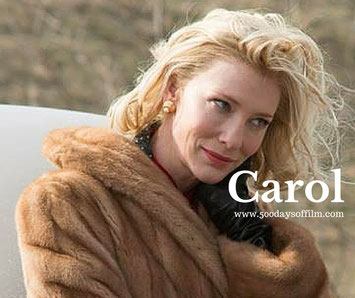 500 Days Of Film Reviews Carol And Finds An Atmospheric Film And A Heartbreaking Story
Based on Patricia Highsmith's novel, The Price Of Salt, Carol tells the story of two women who, despite coming from very different backgrounds, meet by chance and then fall in love.
Therese (Roony Mara) is a lonely young woman in her 20s working as a shop assistant in a Manhattan department store.
One Christmas, she meets Carol (Cate Blanchett), an older woman trapped in a loveless marriage.
The two feel an immediate connection - an attraction that neither can ignore. 
However, this is the 1950s. This is a time when the love between Carol and Therese, no matter how deep, is rejected by society.
Is It Any Good?
Carol is a powerful and heartbreaking story of forbidden love. 
Throughout director Todd Haynes' gorgeous film, I kept returning to this central point. Carol and Therese are not allowed to be in love. As recently as the 1950s, their relationship was not tolerated and was often punished. 
The two women find themselves in a heartbreaking situation. However, despite the risks, Carol and Therese cannot deny their feelings for each other. For, as Carol asks, could you?
Carol has proved divisive among audiences and critics. Some audiences love this film, others find it frustratingly slow. I stand with the former group - I really enjoyed this movie.
Carol is about atmosphere, not action. Much is conveyed by a look here and a glance there. This film does not concern itself with a series of increasingly dramatic  plot developments. Instead, it focuses on a time and a place - and the undeniable power of love.
It almost seems redundant to state that Cate Blanchett is perfect as Carol. Is she ever anything else? However, I was astonished by Blanchett's flawless performance in this film. It is, perhaps, a career best - and that is certainly saying something. 
Blanchett portrays a woman who moves through life with grace and restraint. She seems to be in control of her life and her relationship with Therese. She appears to have the power. In reality, of course, Carol has no power. 
Society forbids her love for Therese. Her estranged husband Harge (the superb Kyle Chandler), desperate to force her to love him as he loves her, is able to threaten Carol with the loss of her child if she doesn't conform.
That Carol is forced to choose between being her true self and being with her daughter is heartbreakingly sad.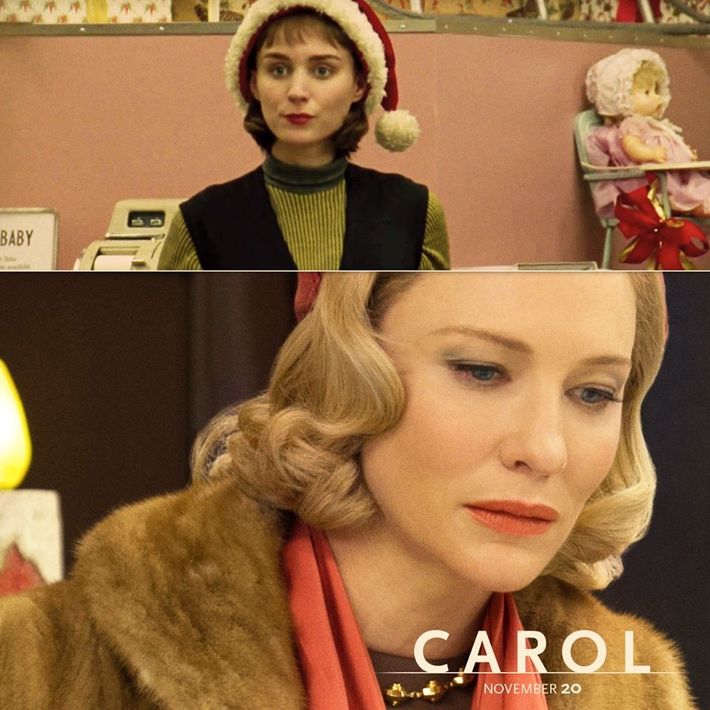 Meanwhile, Therese's story is just as moving. She has but a glimpse of love and the potential for future happiness before she is betrayed and that happiness is  destroyed. Indeed, Therese's journey is just as interesting and poignant as that of Carol herself. 
Rooney Mara gives a brilliant performance in this film - both full of passion and restraint, she certainly holds her own and is in no way overshadowed by Blanchett.
Shortly after its cinematic release in December, critics started to wonder if Carol would sweep up at the Oscars. Despite garnering a number of nominations, the film was overlooked in all categories.
Looking back, I tend to agree with the Academy's decisions - particularly by favouring Brie Larson's performance in Room. However, I do think that the best costume design category must have been a close call (the award went to Mad Max: Fury Road).
Carol just looks stunning. Each costume is utterly gorgeous and the film's production design and cinematography feel so important they are like characters in their own right. Haynes has taken great care to create a wonderfully atmospheric, visually stunning world in which to tell his story. 
I would highly recommend Carol - it has a powerful and important story to tell. 
Random Observations
Patricia Highsmith published The Price Of Salt under the name Claire Morgan both because she did not want to be labelled as a lesbian book writer and also because she had used some of her own experiences in the novel. 
Highsmith based Carol on a woman that she saw wearing a fur coat and shopping in Bloomingdales. That night, Highsmith went home and started to write The Price Of Salt. 
The Telegraph recently published an edited version of Patricia Highsmith's 1989 afterword to Carol (from Bloomsbury's new paperback edition of the book). Here, Highsmith recalls that the success of her novel was largely due to the story's ending:
"Prior to this book, homosexuals male and female in American novels had had to pay for their deviation by cutting their wrists, drowning themselves in a swimming pool, or by switching to heterosexuality (so it was stated), or by collapsing – alone and miserable and shunned – into a depression equal to hell."
Have you seen Carol? What did you think of this film? I would love to know. 
Do feel free to leave me a comment in the box below.