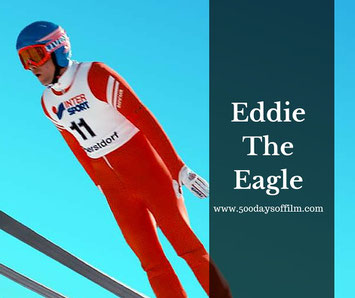 500 Days Of Film Reviews Eddie The Eagle Starring Taron Egerton In The True Story Of Britain's Unlikely Olympic Hero 
Eddie The Eagle is the inspirational story of Eddie Edwards who set out to become Britain's first Olympic ski jumper at the 1988 Winter Olympics in Calgary.
Against the odds, and with the help of washed up former ski jumper Bronson Peary (Hugh Jackman), Eddie takes on the establishment and touches the hearts of millions. 
Despite coming last (by quite some way) Eddie embodied the true spirit of the Olympics. After all, as the founder of the games, Pierre de Coubertin, famously said: "The most important thing in the Olympic Games is not winning but taking part; the essential thing in life is not conquering but fighting well."
Is It Any Good?
You could easily pick holes in Eddie The Eagle.
You could point out that the film takes huge liberties with the truth (see Random Observations below). You could argue that is is overly sentimental. You could complain that it is a biopic by numbers. 
However, that would be to miss the point. 
Eddie The Eagle does not set out to be a groundbreaking film. It knows just what it wants to do - to make its audience feel good - and it does this well. This film wants us to feel inspired (and we do), it wants us to laugh (and we do) and it wants us to feel moved by the plucky spirit of this remarkable underdog - and we are.
To enjoy Eddie The Eagle, it is important to leave your skepticism at the door. Just relax and enjoy the sentimental silliness.
Taron Egerton is superb as Eddie. Not only does he look so much like Eddie, he has also perfected his mannerisms. Crucially, Egerton's performance has us on side - we laugh with him and not at him. 
Meanwhile, Hugh Jackman is great as Eddie's coach. He sets up much of the comedy in the film. In addition, Jackman helps us to understand how dangerous Eddie's dreams are and just what is at risk.
Not that we are unaware of the heights involved. Director, Dexter Fletcher, takes us up to the top of the jumps and sends us soaring down with Eddie. I found myself really impressed by the physical and CGI effects in this movie.
The supporting cast in Eddie The Eagle is a pleasure to watch. It is wonderful to see so many beloved British actors. I also got a real thrill from Christopher Walken's small cameo as coach, Warren Sharp.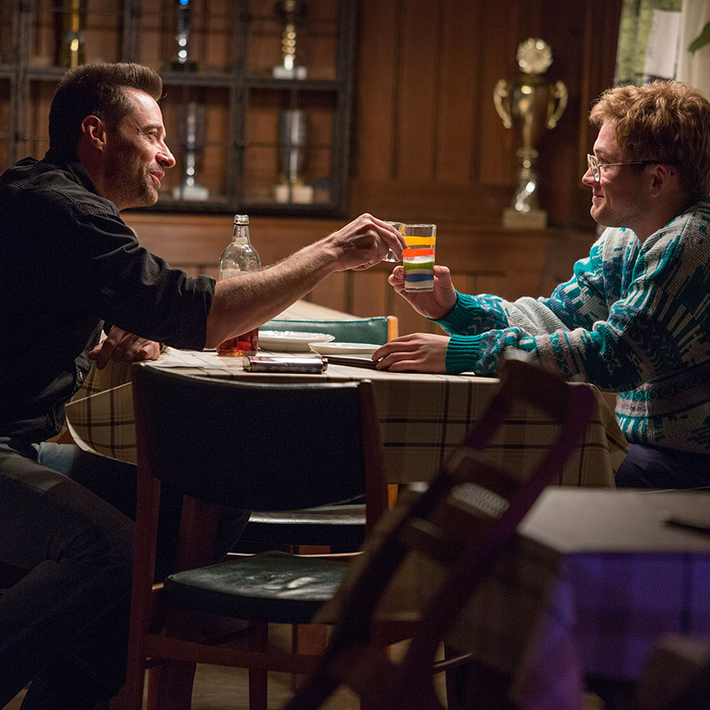 While I thoroughly enjoyed Eddie The Eagle, this film is certainly not perfect. There is one scene that I thought was particularly misjudged for what is a PG-rated, family movie. Peary is teaching Eddie how to land. He suggests that Eddie imagine he is with a movie star of his choice. What follows was just excruciating to watch.
A film has to be very careful when evoking a When Harry Met Sally moment is all I will say...   
Apart from that, Eddie The Eagle is a feel good, family film that was surprisingly moving and made me laugh and all the way through.
Random Observations
Edwards failed to reach the 1992 Olympics after his performance in Calgary 1988. After many years working in television and radio, he is now a builder and plasterer. 
In an interview with The Guardian, Edwards admitted that the film is only 5% factually accurate. For example, in reality, his father was as supportive of his dreams as his mother. Much of his life just doesn't fit in with the film's feel good, pluck loser narrative. However, Edwards has also said that the movie captured the true heart and soul of his life.
Hugh Jackman's character, Bronson Peary, is purely fictional.
A film about Edwards' life has been in the works for many years. Steve Coogan, Robbie Williams and Rupert Grint have all been associated with the part. In addition, at one point it was reported that Gary Barlow was in talks to write the soundtrack for the film. 
Have you seen Eddie The Eagle? If you have, what did you think of this film?
Do let me know by leaving me a comment in the box below!