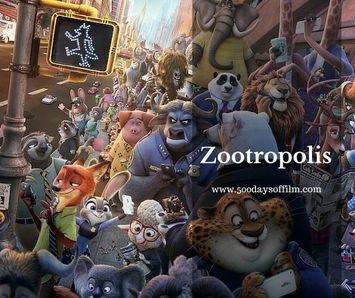 500 Days Of Film Reviews Disney Latest Animated Film, Zootropolis
Judy Hopps (Ginnifer Goodwin) is a girl with a dream. She wants to join the police force and make the world a better place.
However, Judy is a tiny rabbit in the evolved animal world of Zootropolis - and no one expects her to succeed. 
Her parents just want her to stay at home and become a carrot farmer.
Even after graduating to become Zootropolis' first bunny police officer, Judy's colleagues dismiss and underestimate her.
So, when Judy gets the chance to solve a major crime involving the disappearance of several Zootropolis citizens, she must prove her worth and also put her own preconceptions aside.
Is It Any Good?
Zootropolis is a hugely enjoyable film - entertaining for both adults and children alike. It is really very funny (lots of laugh out loud moments), imaginative and has an important underlying message of understanding, tolerance and inclusion.
Judy Hopps is a brilliant character. She has spark and motivation to spare. She will not be deterred from reaching her goal. However, she is not a one dimensional animated character. She also has her flaws and prejudices. 
One of the first crooks that Judy meets as a newbie police officer is a hustling fox called Nick Wilde (Jason Bateman). Like Judy, he has been labelled and dismissed from an early age. Unlike Judy, he has accepted the limitations of this discrimination.
Together, the unlikely pair form a formidable team. They support each other, learn from one another and try their best to make the world of Zootropolis a better place.
The world of Zootropolis is simply gorgeous. The animation in this film is stunning and the design of the city and its surrounding suburbs is wonderful.
I also loved the fur. Seriously, it looked so real - gorgeous and soft - animators never cease to amaze and impress me.
Meanwhile, the voice cast in this film is first rate. I loved Ginnifer Goodwin's Judy and Jason Bateman's Nick. Idris Elba is fantastic as Chief Bogo and Judy's parents - voiced by Bonnie Hunt and Don Lake - are just perfect.   

Zootropolis isn't just a funny and entertaining animated adventure film. It also has something important to say. Well, several important things to say really.
This animated movie tackles racism (species-ism?), sexism and prejudice. It tells us and our children that it is not okay to judge somebody because of their gender or their physical ability. It is not okay to look at difference with fear - even if that is what you have been taught.
Discrimination is not okay and, as Judy finds, will not make this world a better place. 
Disney's new film is going to be phenomenally successful because it has come at the perfect time with the perfect message of tolerance and inclusion. And, today more than ever, we need to listen.
Random Observations
Zootropolis is called Zootropia in the US. The film beat Frozen's opening weekend record and is well on course to being 2016's most successful animation. 
Have you seen Zootropolis? If so what did you think of Disney's new animated movie?
I would love to know… why not leave me a comment in the box below!