500 Days Of Film Reviews High Rise: Ben Wheatley's Adaptation Of JG Ballard's Novel Starring Tom Hiddleston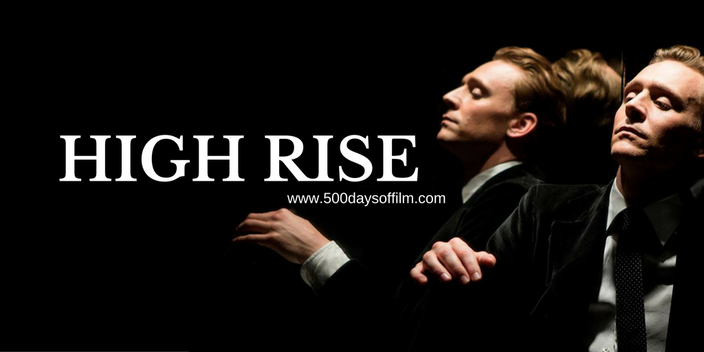 Dr Robert Laing (Tom Hiddleston) has just moved into a new apartment. He is seeking a fresh start and a place to make his mark. Laing's new home is in an impressive and innovative high rise building - a living social experiment whose vital elements have been designed by architect, Anthony Royal (Jeremy Irons). 
The building offers all that its occupants could ever desire. It contains tennis and squash courts, a swimming pool and a supermarket.
However, before Laing's boxes are even unpacked, cracks start to show. As the rich (located on the top floors) throw ever more decadent parties, the poorer residents (who live on the bottom floors) suffer power cuts and cramped conditions.  
Laing, whose position in society and in the high rise falls somewhere between these two camps, can only observe in horror as chaos ensues and the foundations on which Royal's high rise has been built come crashing down.
Is It Any Good?
I loved every minute of High Rise. I have been looking forward to Ben Wheatley's new film for months and it certainly didn't disappoint. 
This film is visually stunning.  At the start, I wanted to explore the high rise, to run down its corridors and discover its amenities. The building feels so real - a living, breathing entity. However, even before the chaos and madness takes over (and things do not take long to kick off) the apartment block feels malevolent.
Wheatley's high rise must surely now take its place alongside The Shining's Overlook Hotel and the creepy home in Guillermo del Toro's Crimson Peak as one of the most unsettling buildings in cinema. 
High Rise features some powerful performances. Tom Hiddleston is superb. He is the story's detached observer who craves anonymity. However, a misjudged action plunges into the heart of the building's darkness.
In lesser hands, Laing could have been a cold, one dimensional character. Instead, thanks to Hiddleston, he is engaging - his guilt and despair all too real - and we care about his fate.
The rest of the cast of High Rise are also strong. When the film becomes nightmarish and surreal, the cast is careful to avoid overcooking their performances. I was really impressed (again) by Sienna Miller as Charlotte Melville and Luke Evans is also scene-stealing as Richard Wilder (pictured below).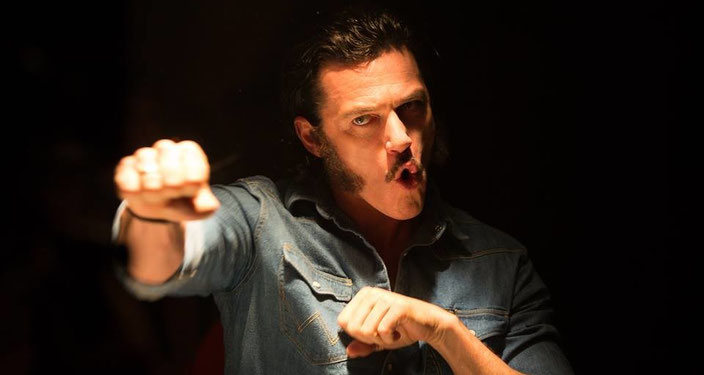 While I enjoyed High Rise, I can also understand why this film has proved divisive. This is not a movie that will appeal to everyone. It is unsettling, violent and bleak.
In addition, as the building dissolves into unrestrained anarchy, so High Rise becomes increasingly surreal. Your enjoyment of this film will largely depend on how willing you are to go on this crazy journey with Wheatley. Some critics have not been keen and have complained that High Rise is overindulgent. 
I disagree. I am so grateful that there are directors out there who are willing to take on seemingly unfilmable novels, who are able to create stunning and surreal places and who want to tell interesting and challenging stories.
More than anything, that is what I took from High Rise and that is why I came out of the cinema excited and uplifted. I had just experienced something rare in cinema these days - a true intellectual feast for my senses.   
Random Observations
JG Ballard's novel was published in 1975 and was based in the future. I thought it was a brilliant touch that Wheatley set his film in the 70's - making this a film that is both of the past and the future.
British producer, Jeremy Thomas had wanted to adapt High Rise for film since it was published. In the late 1970s, he tried to make a movie of the novel with director, Nicolas Roeg.
High Rise's score is superb - it felt as crucial to the story as the design and the performances - effectively drawing me while also creeping me out.  
High Rise has been visually stunning from the start. In an age when film posters have become, well rather bland I loved this design: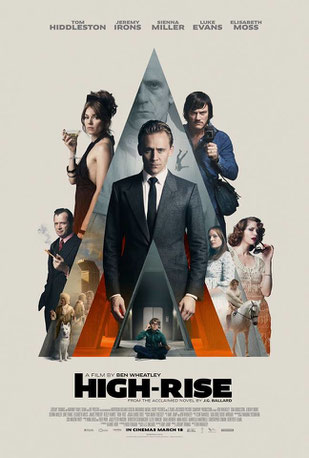 I am a big fan of Ben Wheatley and have watched (and would highly recommend) two of his films as part of my 500 Days Of Film Challenge: Kill List and Sightseers.
Have you seen High Rise?
If so, what did you think of this film? Do let me know by leaving a comment in the box below!